A large-scale pig farm construction must take many factors into consideration. In the continuous development of society, the term "scale" is used more and more widely. How can a safe, healthy and convenient feeding system be realized by building a large number of large-scale pig farms? Principles for the construction of large-scale pig farms: reasonable layout, convenient management, and strong practicability.
1. Site and layout planning
The choice of site is not random. It should not only stay away from crowds and places of residence to prevent the pig farm from affecting the lives of others, but also comply with the state's environmental control standards for pig farm construction, and comply with the basic principles of "self-interest, convenience, and compliance" ; The building facilities on the site are arranged according to three functional areas: management area, production area and isolation area, and each functional area has clear boundaries.
2. Scientific management
Pay attention to the epidemic prevention environment and biological safety. Perform regular environmental disinfection of the whole farm, and increase the frequency of disinfection when necessary. Especially in summer, it is easy to breed "rats, flies, mosquitoes, ticks" and other harmful organisms. The pig farm must strictly manage the personnel entering, especially the current African pigs. When the plague is spreading, the biosecurity of pig farms is particularly important.
Pay attention to feces and urine treatment and environmental protection. Discharged wastes need to be strictly controlled to prevent environmental pollution and the spread of epidemics, and a sewage system project should be constructed in accordance with local conditions.
3. Mechanized equipment
A large-scale pig farm is very proficient in feeding management and pig raising management. There is no pressure for the matching of feed, but how to choose to save costs or how to match the pellet feed unit/feed machinery/feed production line in the production of feed is particularly important. After determining the output, the matched feed machinery will be approved according to the material standards. It is recommended to use the Liangyou small and medium-sized feed unit, which is especially suitable for small feed factories and farms. It adopts building block modular design, which is convenient for disassembly, transportation and installation; it has low investment, quick effect, compact structure, small floor space, low plant requirements, low capital investment, and it can also be designed according to needs.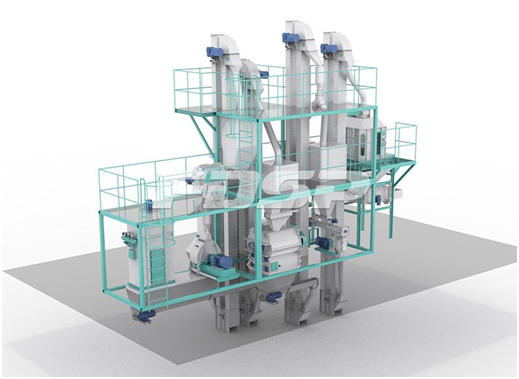 Liangyou SKJZ series feed small unit
Mechanization is the current trend in the breeding industry, so when we build pig farms, we must reserve space for mechanization upgrades and continuously improve the competitiveness of the breeding farm.