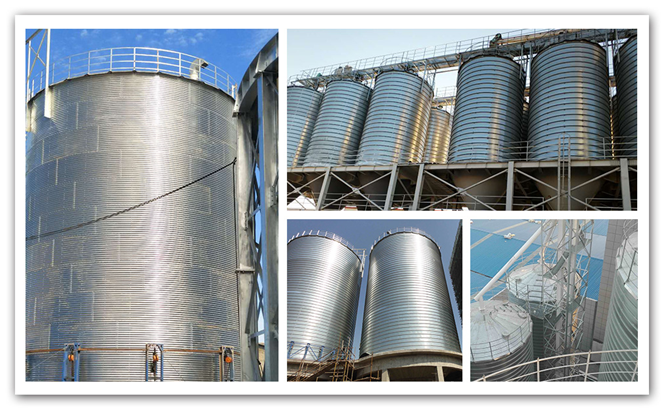 Compared with traditional cement concrete silo, steel silo has the advantages of large reserves, short construction period, low construction cost, and high material delivery rate. Generally, the capacity of large steel silo is more than 10,000 tons, which can meet the requirements of general cement companies or firepower. The storage requirements of the power plant, and the steel silo can be placed according to the site topography, and the steel silo group can be built to meet the needs of larger capacity.
Steel silos quickly replace traditional warehouses with their strong advantages and market benefits, and are widely used in many industries, especially the storage of cement and fly ash. In recent years, more and more steel silos have been used for grain, feed and other powders. The storage of bulk materials.
The steel silo project is suitable for industrial fields such as grain, feed, oil, flour, brewing, building materials, chemical industry, port environmental protection, etc., to solve the problems of high labor intensity, large area, high cost, difficult storage and transportation, and difficult temperature and humidity control. With large capacity, automation, and intelligent storage and transportation, Liangyou Warehousing focuses on the steel silo project of professional design, professional manufacturing, professional installation of spiral silo and assembly silo at home and abroad, and can provide customers with spiral single silo 50-6000T and assembly orders. Warehouse 10-10000T, 50-1000T/H large-scale conveying equipment project.
1. Technology research and development , based on existing resources, carry out scientific research cooperation, promote the transformation of scientific and technological achievements, and increase the technical application and cooperation in steel silo structure safety, steel silo delivery rate, large steel silo discharge device, environmental protection storage, etc. The practical implementation of the project, the formation of independent intellectual property rights, has become a technology development, application and construction application in the field of multi-point and multi-corridor circular discharge of steel silo. A sound and mature technical service system can provide strong technical support for steel silo customers.
2. Consultation and design : The company has many years of experience and an innovative technical team, and constantly introduces and trains process engineers, structural engineers, electrical engineers and other professional design professionals to improve the products from fly ash, cement, feed, clinker, and mineral powder. , Coke and other powdery granular materials output to loading or sorting and processing of the entire business chain design capabilities.
3. Project management and sub-project construction , the introduction of European construction technology, the construction method of spiral steel silo is mature and professional:
1. High strength) The vertical reinforcement ribs on the inner wall of the cylinder and the transverse spiral undercut ribs greatly enhance the strength of the whole body, and have strong wind resistance, earthquake resistance and snow load resistance; 2. Good airtightness) The cylinder link is made of spiral undercut , The thickness of the undercut is five times the thickness of the whole body, and the sealing performance is good, which is convenient for fumigation and insecticide. 3. Short construction period) It only takes 5-6 days to build a steel silo with a capacity of one thousand tons, which can be put into use as soon as possible to create benefits for customers as soon as possible. 4. The appearance is beautiful and practical) The storage has a tapered shape, which is not easy to accumulate dust and water, and the warehouse body has smooth lines. 5. Long service life) The cylinder is made of hot-dip galvanized coils, and the roof of the warehouse is treated with a new process, which has strong corrosion resistance. The prefabricated steel silo introduces a complete set of advanced processing equipment and technology, with high processing accuracy, high mechanization and automation, high production efficiency, and a large amount of labor saving. The reserve range can reach 15,000 tons, and the supporting facilities are complete, which can meet the different needs of customers. Ensure customer value by effectively controlling the progress, quality, safety and cost of each steel silo project.
4. After-sales service : After the steel silo is delivered for use, it is necessary to improve the "Customer Information File", make regular return visits, use, maintain and maintain in strict accordance with the current national regulations, and work closely with customers to track the quality of the products for life service.
From preliminary design to construction, acceptance, and later delivery of steel silo, whether it is spiral steel silo or assembly warehouse, Liangyou continues to improve the engineering quality assurance system during project construction, and strives to create high-quality steel silo model projects. Those who are interested can call for consultation. .