In recent years, driven by the breeding industry, the feed processing industry has made rapid development and progress, which has further driven the development of the feed machinery industry. However, there are some hidden dangers in the production process because of the influence of incorrect operation, installation defects, and improper maintenance. Therefore, we must pay more attention to this issue and do a good job in the prevention of potential safety hazards.
First. The flywheel lacks a safety shield
The flywheel lacks safety protection cover, and it is easy to twist the staff's clothing into the high-speed rotating belt when handling accidents carelessly or in an emergency, while working, also will cause the foreign body which falls on the belt along with the high-speed movement belt to fling to the on-site staff, causes the unnecessary injury.
Two. Lack of iron removal device in front of key equipment
Feed processing equipment in the process of conveying raw materials containing metal, especially iron impurities, such as screws, Shim, iron blocks, and other feed may enter the grinder, it might break the screen, Hammer, even hurt directly through the body which causes a direct threat to the lives of staff.
Three. Manual adding inlet lacks dust cover
The raw material which put into the manual adding hopper are small ingredients such as mineral additives, vitamin additives, etc. , these raw materials before entering the mixer is easy to be absorbed by the human body as dust, long-term inhalation of a large number of these will cause people chest tightness, dizziness, nausea and other symptoms of discomfort, serious will affect physical health.
Four.Precautionary measures
In view of the above, in addition to the make kinds of security checks and personal protection before start running, the following methods will receive good results. Adding a protective cover with good quality can effectively avoid accidental injury, and adding iron-removing equipment after cleaning, before crushing and pelletizing can effectively prevent the damage and danger caused by iron impurity entering the main equipment. Add a closed flap in the manual adding inlet which height is about 30 cm ~ 40 cm, this can not only make it easier to add a larger quantity of raw material such as premix, additives, etc. , can also play a role in preventing the spread of dust.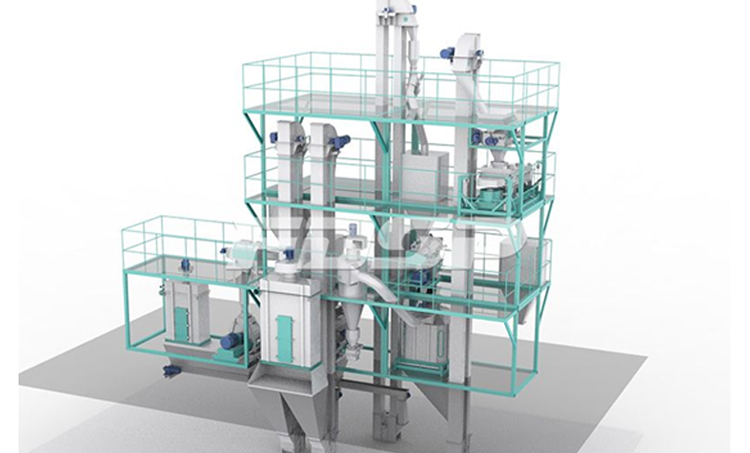 FDSP SKJZ4800 feed set--safety design, small investment
The feed set adopts the Modular design, which is convenient for disassembly, transportation, and installation. It has the advantages of low investment, quick effect, compact structure, small floor area, low factory building requirement, small capital investment, and can also be designed according to demand. Especially suitable for small feed mill and farm use, FDSP will provide customers with a safe, scientific plant planning and complete solutions so that you have no worries.