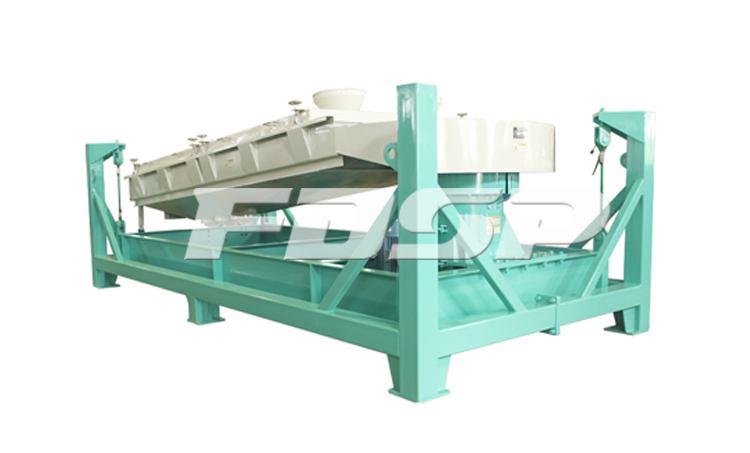 The choice of models
It is determined according to the following conditions:
1. name , bulk density, viscosity and temperature of screening materials.
2. processing capacity per hour.
3. Mesh of screen.
4. Particle size ratio of materials and required screening accuracy.
5. Acidity and alkalinity of materials (304# stainless steel or 316L stainless steel shall be used).
6. space for setting vibrating screener on-site.
Installation of vibrating screener
1. Remove the transportation support. Because the screener base and screen frame are connected by the spring, so the half of the upper part is fixed by the transportation support during transport. After entering the installation site, transport support shall be removed. Test running with transportation support is not allowed.
2.the screen should be installed on a horizontal basis. if there is no laying foundation, anti-vibration rubber board should be laid between worktable and machine base.
3. The vibrating motor and the cable line in the screening machine are undergoing severe vibration, which should be connected to the standard ground wire for safet.
Daily inspection and maintenance
1. Carefully check whether the fastening bolt at each joint of the screener is loose. Continous operation will cause damage to the screener if there is a loose.
2. check the wear of connection from the vibration motor to the switch. Please use the chloroprene vibration resistant cable when replacing the cable. It is strictly prohibited to run without items.
3. Check whether the motor has abnormal sound and heat. Add lubricating oil or replace bearing if abnormal. The motor installation and repair shall be carried out by skilled technicians with professional knowledge.
4.check whether the screen is tensioned, whether the screen surface is damaged, replace the screen if there is damage.
5. The screener must be cleaned up after each use.
Screen replacement
1.If found that the screen is broken then need to replace the new screen, the screen frame can be taken as long as the release of the external lock handle, take out the screen frame, remove the rubber seal ring, tighten bolt, loosen the tight bolt of the screen frame can replace the broken screen.
2.then change the new screen, according to 6.1 reverse order can be reinstalled. Note: the screen must be smooth and firm, lock the lower bolt of the screen frame first, then lock the upper bolt, the external two v-groove bolts must be tightened.
If you have any questions, please contact with Jiangsu Liangyou Zhengda co., LTD. (FDSP), . As a National high-tech enterprise, FDSP has rich experience in the industry, to provide you with personalized Suggestions and solutions based on your actual conditions.