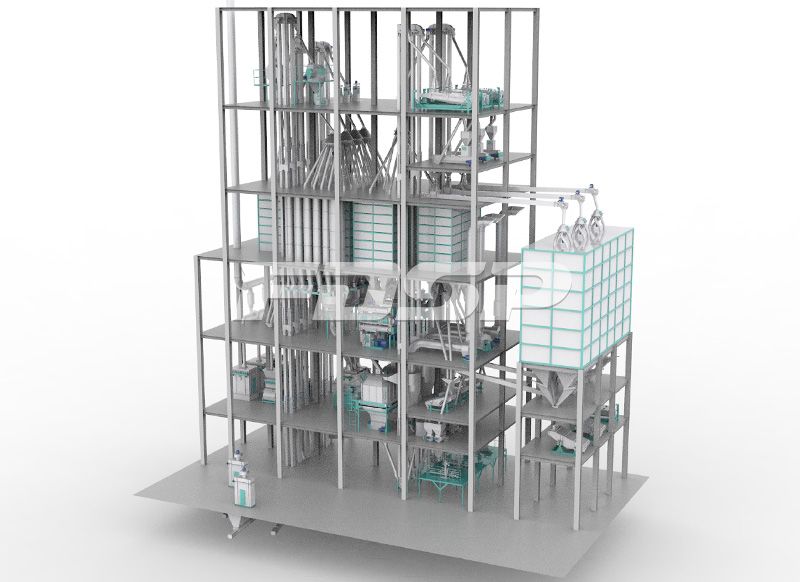 In the process of feed mill construction, the first thing to consider for customers is how to reduce initial investment, to build and put into production as soon as possible, so as to obtain production income. Specific investment includes land cost, equipment cost and later maintenance cost. For the contractor, how to help customers achieve "cost reduction and efficiency increase" in feed plant construction is a key goal to pursue.
To achieve the goal of reducing cost and increasing efficiency, the following aspects should be considered:
Determine feed varieties and production scales
Due to the large number of feed mills in China, investors should analyze the regional characteristics and market objectives before building the factory, avoid blind investment, choose feed varieties rationally and scientifically, and determine the production scale according to the local breeding situation.
Determine the structure of the workshop
The construction period of concrete structure is long, the cost is low, and the workshop working environment is good. The steel structure factory building cycle is short, the cost is high, the workshop working environment is poor, but it can be recycled. Feed production has high environmental requirements, so concrete structure is the one chosen by more feed mills.
Select production process and equipment
The production process directly affects the feed manufacturers' purchase for equipment and product quality. Choosing a partner with better technical strength and experience can help you achieve twice the result with half the effort. "Grinding before mixing" is a production process that feed factories choose more, which can not only save storage sites, but also reduce processing costs to a certain extent.
Allocating reasonable production equipment according to the scheme design. The selection of production equipment is a leading factor related to the quality and cost of finished products. According to the requirements of output, environmental protection and quality, the types of supporting equipment selected for each section are not the same.
Pay attention to the equipment of auxiliary equipment
While focusing on the host equipment, we should also pay attention to the selection and installation of auxiliary equipment. For example, taking grinding system as an example, if the crushing air network lacks the necessary settlement space, which is easy to cause the blockage of pulse dust collector, it will directly affect the performance of the host equipment
Workshop construction as the center in the workshop construction
Try to ensure the workshop and raw material, finished product warehouses' distance, make it into a piece. Boiler room, power distribution room, and machine repair room should also be distributed around the main workshop, to reduce personnel walking time, save circuit loss cost.
Arrange equipment maintenance reasonably
Standardized operation and good maintenance can ensure the normal operation of production equipment, improve the service life. It is beneficial to reduce production cost and improve production efficiency to change post-repair into pre-maintenance.