In 2020, the output of aquatic feed in China has reached 21.236 million tons. From 1995 to 2020, the aquatic feed has maintained high-speed growth in the feed industry, and the market space is expected to be stable and huge in the long term.
Extruded feed, also known as cooked feed, is processed by extruding process. After the expansion of feed materials, the shape, structure, and even organic matter have been changed, more conducive to digestion and absorption by animals.
The production process of extruded feed and pellet feed is different from each other in conditioning, expansion, liquid spraying and so on.
(1) Conditioning: about 25% moisture content of extruded material after conditioning, and about 17% for pellet material. And water and steam will be added together for extruding, while for pellet feed only steam is added.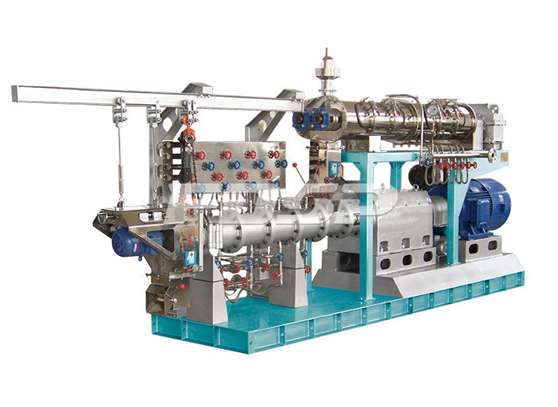 FDSP double screw extruder
(2) Extruding and spraying: Extruding process and coating process is added for extruding feed, special extruder and oil spraying and coating machine are adopted. After spraying, the feed has good appearance, good palatability and strong nutrition. But the pellet material does not have these two process, instead of the granulating process.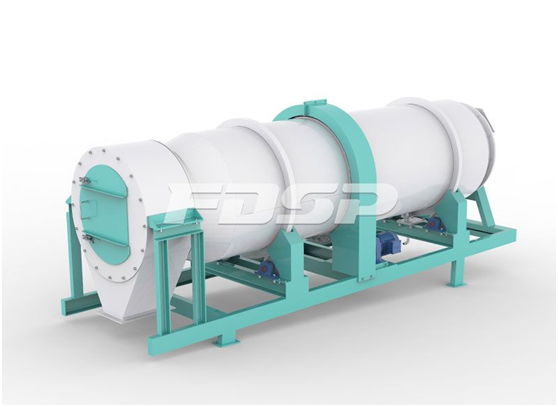 FDSP drum oil coater
Extruded feed adopts superfine grinding. The particle size is finer and easier to be absorbed, but the protein is damaged because of high temperature and high pressure. The processing temperature of granular material is about 80 °C, and the nutrition is basically no loss, but the bacteria, fungi and so on can not be completely killed. Therefore, compared with ordinary granular material, expanded material is safer and reduces the incidence of animal disease. The two kinds of feed have their own characteristics because of different processing technology.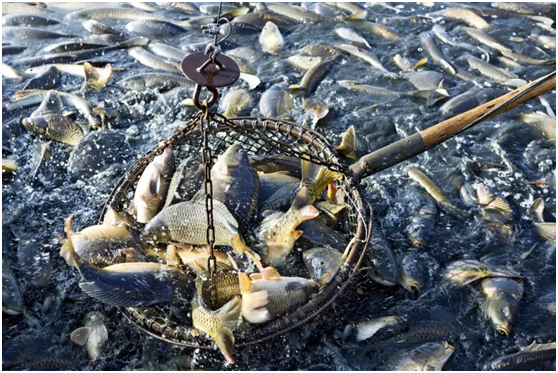 Extruded feed is more suitable for the production of aquatic products, because the stability of extruded feed is 12-36 hours after it is put into water, it is convenient for the breeder to observe the feeding of feed, and the high quality extruded feed will not disperse in water which can reduce water pollution. In addition, fish is a kind of Evolution of biological complexity, the digestive system is simple, low absorption rate, extruded feed after high temperature sterilization, improve starch gelatinization degree, can greatly improve the absorption level of fish, reduce the bacterial harm, effective protect the health breeding of aquatic organisms.