Process section:
Grinding section
Straw rotary cutting machine is pretreatment equipment for crop stalks. It can crush long straw, stalks and other materials to 3-5CM. The it will be fine grinded by hammer mill, the sizes will be 3-4mm.
Crushing equipment(2sets): Rotary cutting machine: LYXQ270, power 75kw, design with 4-5T output.
Hammer mill(2sets): MFSP68*100, power 132kw, design with 4-5T/H output.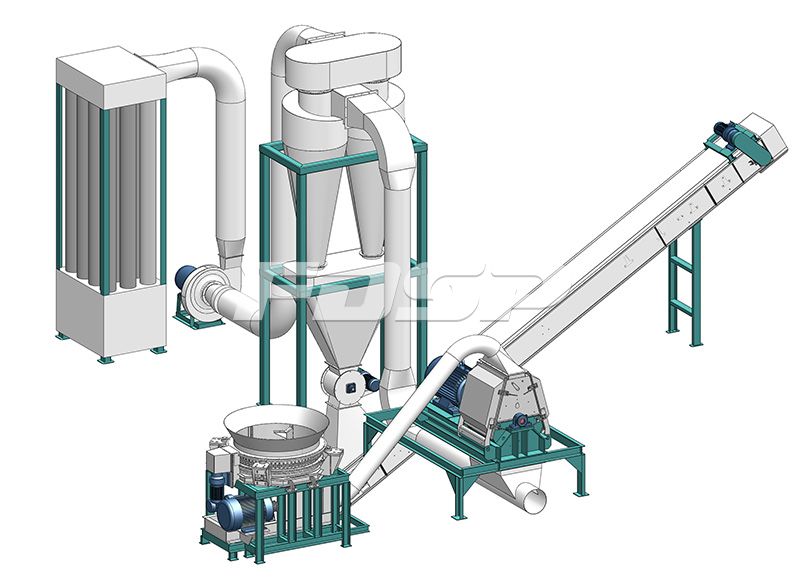 Drying section:
Three - layer drum dryer, after drying wood chip moisture in about 13-18%.
Drying equipment: LYHG60, drum diameter 3.45m, length 11.6m, power 22kw, design with 6T/H output.
Pelleting section
The biomass particles are 6-10mm in diameter. The vertical ring die pelleting machine is adopted, and the ring die adopts the flat structure which directly enters the pressing chamber from the feeding port, making it easier for the materials to enter the pressing chamber, especially suitable for the pelleting of straw raw materials.
Pellet mill(6sets): MZLH508-L, main motor power 90kw, design with 0.8-1.2T/H, output: 6 units.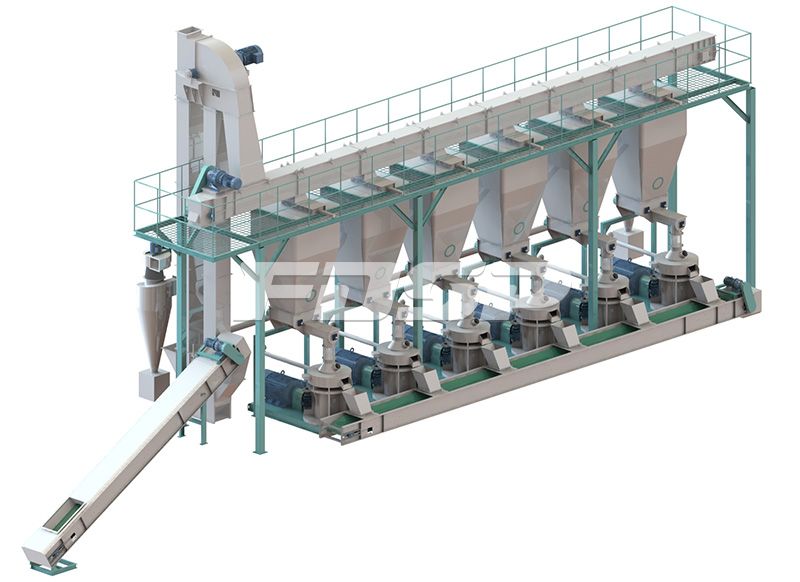 Cooling & Bagging section:
we use cooler to reduce pellets temperature and decrease pellets moisture, low energy consumption, easy operation, high automatic degree, through the cooler cooling, pellets temperature is not higher than ambient temperature 5 ℃, after cooling the pellets moisture around 8-10%, particle density 650-750kg/m³.
Packing scales, according to the local sales needs of customers, choose the appropriate packing scale for customers to easy sell products, usually there are two specifications of small bag and ton bag, small bag packaging scale is with specifications: 20-50kg / bag, ton bag scale packaging is with specifications: 500-1000kg/bag.
Cooling equipment: MKLB4, cooling chamber volume 4m3, design with 6t-8t/h output.
Packing equipment: MDBLY-K, packing specification 20-50kg/bag, packing speed 3-5 packs/min.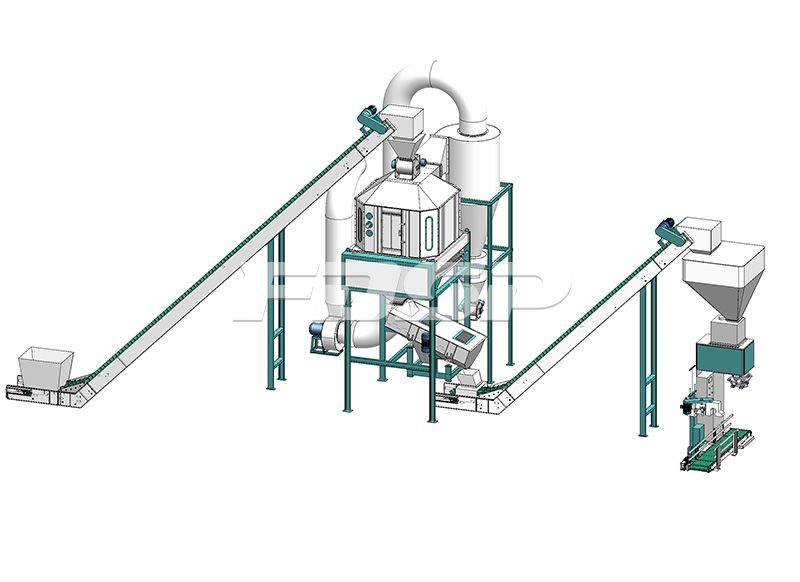 According to the needs of different customers, the scheme can be optimized:
1. If necessary, buffer bins can be added between each section to replace the storage yard. The advantage is that it can improve the automation degree of production line and reduce dust pollution in the workshop; The disadvantage is that it will increase the construction cost of the production line, and because the bulk density of materials after crushing is very light, it is easy to bridge in the bins and material does not drop.
2. If the moisture content of the raw material is not higher than 15%, you can not use the dryer. It can be pelleted directly after grinding; If more than 15% but less than 20%, you can consider mixing dry materials with wet materials, making water neutralization and reduction, and then granulation;
3. The packaging equipment can be adjusted according to customers' requirements for finished product packaging. It can also be stored in bulk or stored into silos.