Process sections are as follows :
Grinding section:
There is no dust discharge in this process. After grinding, it is transported and pneumatic transmission by the fan suction air pressure. The hammer mill is a water droplet type structure; the hammer mill rotor can be operated in forward and reverse directions to improve the service life of the hammer blade; the direct transmission mode of the motor is adopted.
Grinding equipment: MFSP56*40, power 37kw, design with 1T/H output.
Pelleting section:
The diameter of biomass pellet is 6-10mm optional, and the biomass pellets have the characteristics of high calorific value, no pollution and low ash content, which can be widely used in biomass power plants, biomass steam boilers, household fireplaces, drying furnaces and biomass gasifier.
Pellet mill: MZLH420, main motor power: 90kw, power of forced feeder: 0.75kw, design with 0.8-1.2T/H output.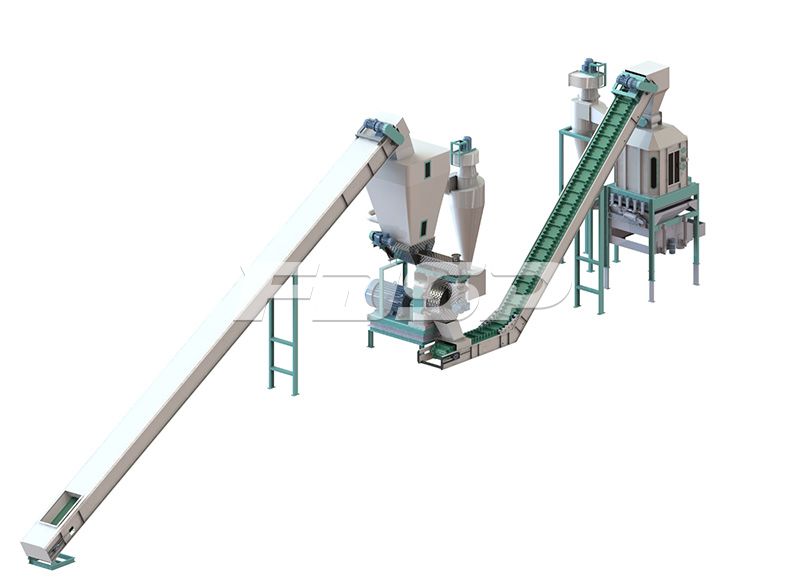 Cooling & Bagging section:
used to reduce pellets temperature and decrease pellets moisture, pellets temperature is not higher than ambient temperature 5 ℃ after cooling and the pellets moisture around 8-10%.
Cooling equipment: MKBZ120, design with 1-2t/h output.
The process can be optimized according to different customer needs:
1. Dryer will be needed if the moisture of sawdust is higher than 20%, the moisture of sawdust should be dried to 13-15% by dryer before pelleting.
2. The packing machine can be adjusted according to customers' requirement for bag size. Bulk or silo storage is also optional.