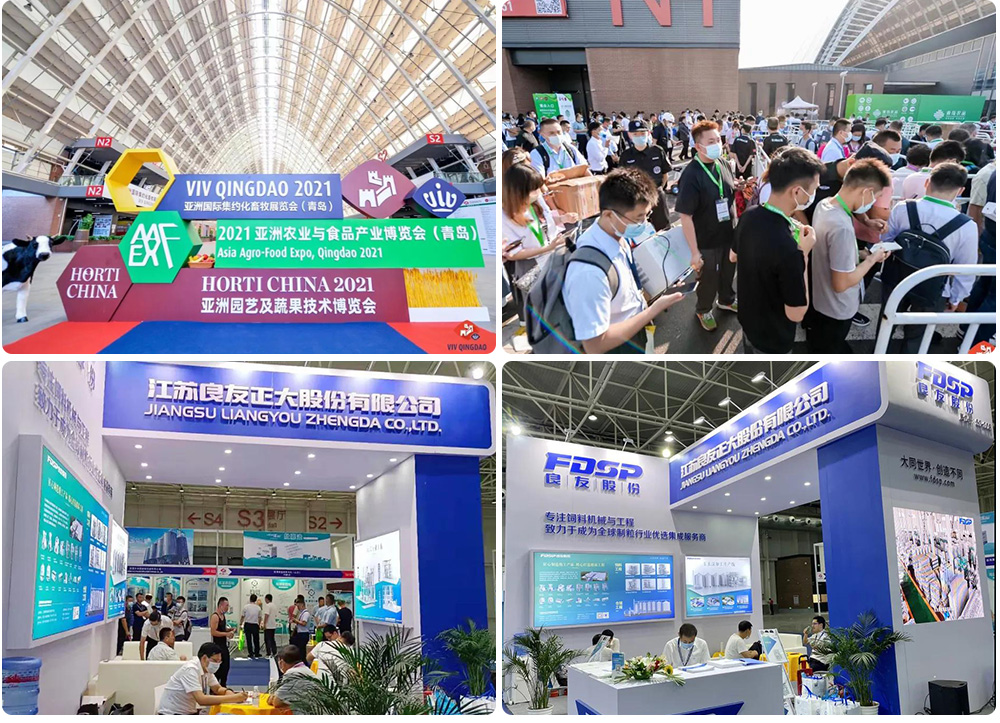 VIV Qingdao 2021 Asia International Intensive Animal Husbandry Exhibition, held in Qingdao West Coast China Railway World Expo City from 15 September to 17 September.
This exhibition takes "The whole industry chain + the whole year + the whole channel" as the new plan, builds the business exchange platform on-line and off-line comprehensively, provides the one-stop service which integrates the technology, the innovation and the solution for the profession, helps the Chinese animal husbandry industry transformation and the green development.
As a well-known integrated service provider for global pelleting industry at home and abroad, FDSP once again appeared at the exhibition with "Advanced Technology, brand-new products, innovative ideas and emerging projects" to further exert its brand advantages, to provide on-site customers with integrated problem solving solutions for feed machinery and its systems engineering, as well as development opportunities for emerging industries such as corn deep processing complete engineering, pre-mixed flour engineering, pet food engineering, cat litter production line, etc.
Our booth is located in S3-308 this time, the design takes our company color blue and white as the main tone, simple style with generous, reflects Liangyou Green feed, environmental engineering technology elements, highlighting the big country brand style. The multi-dimensional exhibition booth is divided into product display, business negotiation, video play and other areas, showing all-round fine products and fine works, attracting many customers and exhibitors to stop and exchange, become the scene of the exhibition a very lively scenery line.
During the exhibition, FDSP received customers from Beijing, Heilongjiang, Inner Mongolia, Shandong, Hunan and Xinjiang, customers have consulted FDSP 's mature technology for corn deep processing lines, acidifier engineering, livestock and poultry/aquatic feed production lines, pet feed production lines, high-grade suckling pig feed production lines, and premix feed production lines and other complete engineering projects. More old customers specially rushed to the exhibition site, and we discuss further cooperation.
In the future, FDSP will continue to pay attention to the new trends of the industry, research and develop new product technologies, high-quality projects and solutions, and commit to bringing more high-quality, automated and intelligent turnkey boutique projects to global customers, contribute to industry high-quality development!