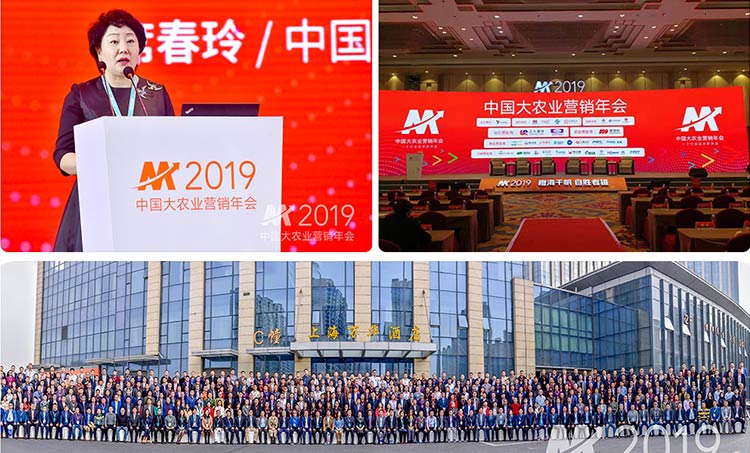 On November 23-25, 2019, The 8th M2019-China agricultural marketing annual conference, sponsored by Cuckoo League, co-sponsored by consonant international, Tiandi Jingwei, Beijing agricultural cooperation and cloud marketing interaction, supported by China marketing association, China animal husbandry association and China agricultural international cooperation promotion association, was grandly held in Shanghai Fuyue hotel. At the invitation of the conference, Mr. Chen zhiliang, chairman of FDSP, attended the event and listened to the voice of industry progress as co-organizer.
The conference attracted more than 800 senior management and marketing elites from breeding enterprises, feed and feed additives enterprises, animal protection enterprises to attend. People joined together, communicated and study on "industry development, the enterprise strategy, pattern, brand, marketing, technology", "hundred schools of thought contend" on the conference, and all enjoy this successful experience to explore failures, focusing on the current situation to absorb advanced ideas, vision to meet the opportunities and challenges of the future.
" Thousand sailing among the sea, winner is who defeat himself " is a historical experience, but also a practical guide. At the meeting, leaders from various industries shared management experience, predicted the trend of the industry, and made wonderful speeches to discuss the way of enterprise development.2019 is set to be an extraordinary year for the livestock industry, with African swine fever ravaging the Country and businesses seeking to save themselves for change. In the face of many complicated and changeable external situations and challenges, FDSP will always be with ambition and strength, "loyal to quality, continue to improve, pragmatic, pioneering and innovative", with a heart for the future.

Since established, FDSP keeps focusing on feed machinery, biomass machinery, fertilizer machinery, silo storage and engineering in R&D and manufacture, using core technology and integrated service platform, provide personalized value system solutions for global customers, provide "safe, reliable, energy saving" single machine and engineering services through various industry strategic cooperation such as distributor , farms and feed mills, to create excellent turnkey project with high quality and low energy consumption, strong stability.
Fifteen years like one day, FDSP adhering to the " Win trust with sincerity, win with quality " as core of the concept of development, adherence to the "relying on scientific and technological innovation, the implementation of brand strategy" as the enterprise purpose, with a heart of craftsmen, elaborate FDSP manufacturing quality, committed to become the global granulating industry optimization integrated service provider, we will also not forget the beginner's mind, self-motivated in the future.
The curtain has fallen on the conference and the tide is rolling forward. As the conference mentioned: "external beauty is an appearance, inner beauty is the essence." We believe that only by always maintaining the value of their own existence, to help customers to achieve value can survive; the enterprise can go further only by making products with heart and love.