The VIV Asia 2019 was held in Qingdao Shandong from Sept.19 to 21, 2019 at Qingdao World Expo City. As the vane of Asian animal husbandry industry, VIV Qingdao 2019 not only covers the whole industrial chain of multiple animal breeds, but also attracts the attention of the whole world. It is an international animal husbandry exhibition with great scale and significance in China.
FDSP was invited to the exhibition and share forefront technologies and applications with global industry experts and leaders, striving to play a positive role in promoting the transformation and upgrading of China's animal husbandry industry and deepening international scientific and technological exchanges and cooperation.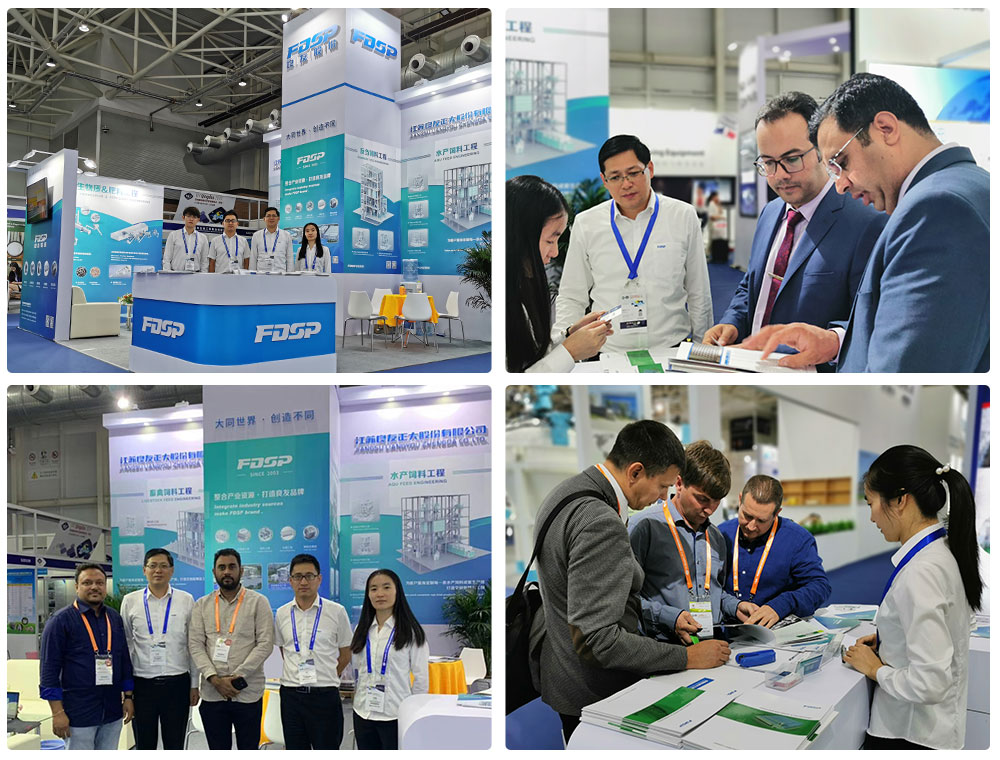 In this exhibition, FDSP displayed our newly developed 6 main products including hammer mill, mixer, pellet mill, cooler, crumbler, screener and complete project engineering solutions; sharing FDSP's one-stop service from personalized design, manufacturing, installation and commissioning to after-sales maintenance, follow-up upgrade. It not only shows the strong R&D strength of FDSP products, but also reflects the inherent quality of "high output, low energy consumption and humanization" of FDSP products, which has attracted many domestic and foreign customers and insiders to stop and exchange ideas.
During the exhibition, FDSP was crowed and attracted many attention! There are customers from Bangladesh, Singapore, Spain, India, Saudi Arabia, Kazakhstan, Russia, Egypt and other foreign customers, but also a lot of domestic customers from Shandong, Hebei, Beijing, Tianjin, Shanghai, Jiangsu, Guangdong, Fujian, Northeast provinces and etc. They consulted various feed project respectively such as 1-2 t/h feed set, 8 TPH of livestock and poultry feed line, 5 TPH mash feed line, 10 TPH livestock and poultry feed production line, 3x1000T Corn silos, premix production line, 10 TPH poultry feed production line, 2 TPH extruding fish feed line, 3 t/h pet feed production line, 20 t/h livestock and poultry feed production line, 50 t/h poultry feed production line, 100 t/h poultry feed production line, etc. Among them, the Singapore customer signed the SKJZ1800 feed set contract with us on site, and indicated that there would be 8tph chicken feed line t to cooperate with us in the future. FDSP's products have been favored by more and more domestic and foreign customers.
In the future, FDSP will take "become a whole industry system solution provider as own duty, improve the operational efficiency of the factory for the partner, to provide a more stable, more efficient, more environmentally friendly agro equipment and project" as the development core, continuously work for the customer development and promote a win-win situation, to promote the sustainable and healthy development of the Chinese and global agriculture, animal husbandry!