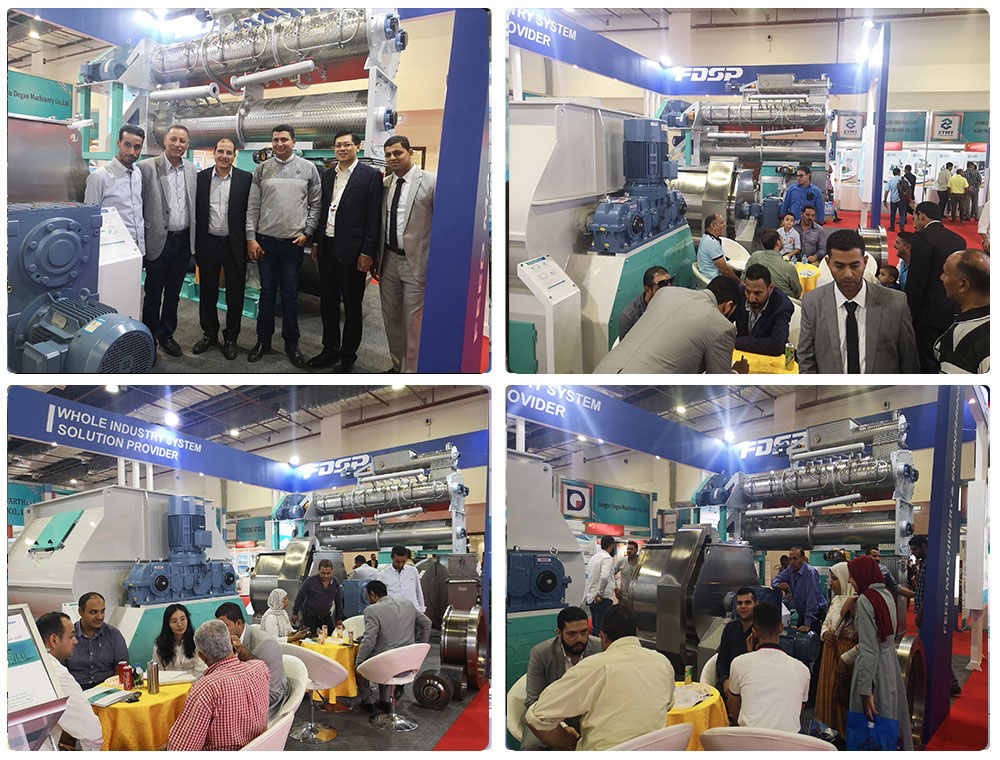 The 21st Egypt Agrena was held at the Cairo international exhibiiton center during October 17-19, 2019. As one of the most prestigious and influential poultry and livestock fairs in the Middle East and north Africa, Agrena has attracted nearly 1,000 exhibitors and over 60,000 industry visitors from all over the world. FDSP and global industry elite in this event, sharing wisdom, cooperation, and common development!
Mr. Chen Zhiliang, Chairman of FDSP attended the exhibition with chief technical engineer and international marketing project manager. One of FDSP's customer in Egypt signed their third line of 50tph chicken feed producing line with premix system with FDSP previously due to the good running condition for the first 15tph poultry feed line and second 20tph poultry feed production line, the six main machine in the new project all adopt the more advanced design. By the chance of Agrena, FDSP exhibited SHSJz4 series double shaft high-efficiency mixer, SDSJ1 series single shaft mixer, SZLH768 high-grade pellet mill. During the exhibition, FDSP's booth crowded, full of seats, FDSP stands out with simple and bright booth decoration and equipment with new structure new design, we attracted attention and become the most popular brand in the exhibition. And many customers have been watching and consulting. Among them, SZLH768 as a new structure, new design and new products,has become a hot topic of customer discussion along with the equipped six major machine.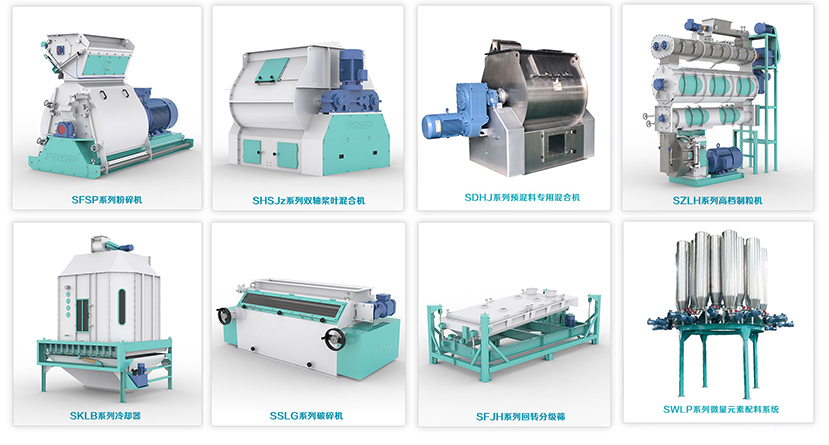 FDSP focus on customer needs, committed to product development and improvement. The newly designed hammer mill, mixer, granulator, cooler, crumbler, screener and other main equipment truly solve the customer's actual production problems, making the whole production line more environmentally friendly, more safe, more efficient and humanized. After detailed introduction and presentation by the sales staff, the new and old customers all showed strong intention of cooperation:
At the exhibition, we received a few old customer from Egypt: that a customer has good cooperation with us for many years, now he has three granulating line in feed factory at the same time, he was very pleased with our new rotary screener, and invited us to visit the factory to dicuss the modification for increasing a 20 t/h granulating line, mean to be a second cooperation; Another customer also affirmed the quality of our products and services, again demand 15tph granulator, mixer, rotary screener and other single machines and spare parts;
At the same time, there are also customers from Egypt, Sudan, Saudi Arabic, Jordan, Lebanon, Palestine, India, Turkey and other Countries. Some inquired 5tph、10tph、15tph、20tph poultry feed plant, some asked 5tph, 25tph ruminant animal feed line, some needs 3tph rice husk biomass pellet production line, 2tph organic fertilizer production line, some inquires 2*500T、4*5000T corn steel silo, there is a big customer who need 50tph cattle and sheep feed plant with silo and premix batching system, FDSP's equipment gives customer great confidence and we make the appointment for further discussion.
FDSP has further improved the international popularity of its brand and laid a solid foundation to expand its market in the Middle East and north Africa.
"Tailor-made, Honesty wins trust, quality wins victory" has been FDSP's management idea for develop with customer. FDSP will never forget the original intention, committed to product research and development and optimization, give feedback to every customer with advanced technology and quality service, determined to become the " preferred supplier and comprehensive problem solver for global feed machinery, biomass machinery, fertilizer machinery, storage machinery and engineering".