From August 20th to 21st, 2019, the export shipment of the Egyptian 50tph poultry feed production line project undertaken by FDSP was successfully completed. The total journey was 18 vehicles (16 40-foot high cabinets, 2 40-frame boxes), which lasted 2 days. The delivery of the goods had completed on time, and our technical service personnel will continue to "escort" the project.
The production line from the procurement, processing, manufacturing of equipment, to the final loading and delivery, FDSP always adhere to the "artisan spirit".The team work together, control the quality of the whole process all the time, and keep improving efficiency while ensuring product quality, for customers to seize the opportunity to create more than expected value.
This production line is a personalized and customized solution tailored to the actual situation of the customer. The equipment such as crusher, mixer, granulator, cooler, crusher, rotary grading screen, etc. is a new product upgraded by the company. The new structure is customized according to the customer's requirements. The production of the equipment of this production line will definitely bring higher economic benefits to customers!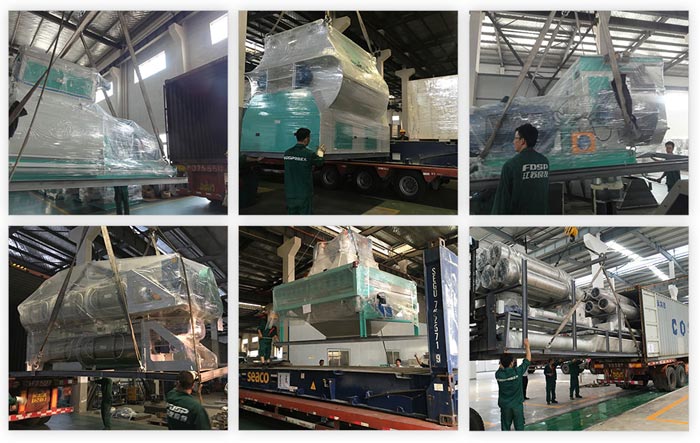 In addition to Egypt's complete production line,FDSP has completed Russia, New Zealand, Romania, Indonesia, Egypt and other foreign trade export orders recently.During this period, customers from Bangladesh, Russia, South Korea, Serbia, Uzbekistan, Afghanistan and other countries visited and FDSP has signed a 4-6tph pulverizer system production line contract, a 10-15m3/h biomass template crushing system contact, a 6tph biomass granulation production line contract, a 3tph sludge sawdust granulation production line contract and a exclusive agency agreement.
FDSP will commit to the goal of "good friend brand, international quality", build the core competitiveness of the company with excellent quality and superior technology, and let the products up to the international stage. Feed machinery, biomass machinery, fertilizer machinery, warehousing machinery and systems engineering by FDSP will certainly be favored by customers all over the world!