Line up with such majestic demeanor
keep quality and quantity with attentively service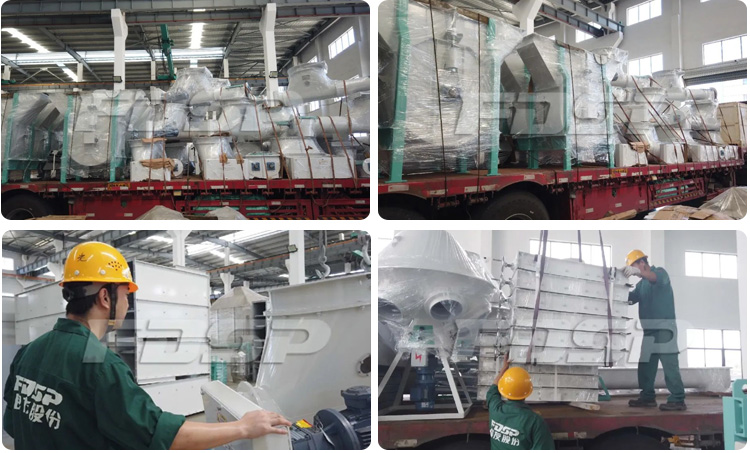 Recently, FDSP quality is recognized again, five heavy trucks have been "Sail Inner Mongolia"! This project customer already had many times with FDSP to cooperate previously, chose again is undoubtedly manifested to FDSP's Quality High Trust and the approval!
After a few days of loading and delivery, Liangyou engineering once again set off to the project site, each piece of exquisite equipment are showing the Seiko charm of Liangyou manufacturing.
The project is a production line with an annual output of 180,000 tons of livestock and poultry + ruminant feed (including silos) . It adopts the technology of three crushing lines (reserving one) , two batching and mixing lines and three pelleting lines (reserving one) , and has the functions of secondary crushing and secondary pelletizing. A single granulator can produce 8-12 tons of livestock, poultry or ruminant materials per hour.
The design was base on the actual situation and scientific construction needs , take high-efficiency and low-cost economic efficiency as the center for the whole production line to optimize the upgrade, to achieve a reasonable general layout, advanced technology and equipment. The exclusive customization of the solution to win the praise of customers!
In order to help customers reduce costs and improve production efficiency, the entire line from the original grain receipt to the final product distribution of the entire operation of the process to implement mechanization, automation production, the construction sub-items linked into a piece, covering a small area, short transmission lines, the total investment was saved by a large margin.
No matter from technical design to manufacturing, or from equipment delivery to the site installation, every FDSP's staff of every post at all times adhering to the "Customer as the starting point"concept of action, layer upon layer control, carefully produced. It could be totally trusted when cooperated with FDSP!
Follow-up, the set of projects will continue to launch, site construction is also continuing to move forward. It is believed that Inner Mongolia's annual output of 180,000 tons of livestock and poultry + ruminant feed production line will soon be completed and put into production, creating value for customers and helping the local animal husbandry construction and development.