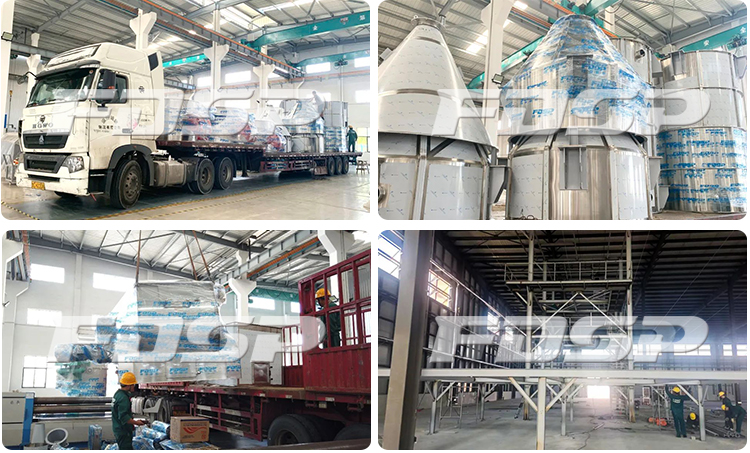 Recently, The 10tph ready-mix powder producing line designed, produced and built by FDSP in Jinan Free Trade Zone is in the process of delivery and installation.
This project is provided by our company with a full set of equipment and process solutions, which is another flagship production line project of FDSP in the field of ready-mix powder with high standards.
In this project, sugar and starch are accurately mixed by computer batching system to make finished powder, which can be used as food additives. The whole production line is built in the existing standard workshop, which is divided into raw material feeding purification workshop, pre-mixed sugar processing workshop and finished product packaging storage workshop.
In order to help customers reduce labor costs, improve the quality of ready-mixed powder products, and improve economic benefits, the main processing equipment is installed in the form of a large frame. Raw material sugar and starch auxiliary materials are fed into stainless steel seamless tubes with closed air feeding valve after feeding and the whole process is closed and sterile. All the equipment meet the food grade standards and completely improve the food quality.
The material is transported to the mixer by air under negative pressure, which can effectively avoid the residue and cross contamination of the material, and facilitate the cleaning when changing the formula. The whole production process is simple and efficient, with a high degree of automation, to ensure a clean environment and no pollution, to meet the safety, hygiene, green, healthy food production needs of ready-mix powder.
During the installation period, the professional project manager of FDSP Shares will supervise the whole process on site and implement dynamic control and management to ensure the quality of equipment, installation safety and construction details. We will always keep improving the attitude, to meet all aspects of the customer's on-site needs.
In the field of ready-mix powder industry, Liangyou Shares has owned successful cases in Lianyungang Free Trade zone, Rizhao Free trade zone, Linyi Free trade zone, Honghe Free trade zone and other major domestic comprehensive free trade zones. We believe that with the two-way support of technology and experience, the Jinan Free Trade Zone project will be put into operation as soon as possible and achieve win-win cooperation as soon as possible.