With the improvement of people's living standards, people no longer just satisfy their appetite for food, but pay more attention to the demand for quality and taste. More and more food enterprises enter the field of ready-mix powder, professional deployment of more diverse, more levels of composite accessories, constantly close to the market demand, unlock new food flavor.
FDSP Stock as a supplier of composite auxiliary materials and ready-mix powder processing equipment and system solutions, has been devoting itself to research, independent development and original manufacturing to create various customized intelligent production lines of ready-mixed powder for customers and promote the development of the industry with the concept of safety, health, low consumption and intelligence.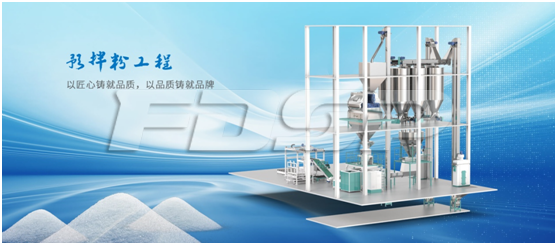 Realize application diversification in food industry
The ready-mix powder in the food industry is mainly used as an auxiliary food additive, from the common solid drinks, wrapping powder, baking, dessert, bread, pastry, to frying, cooking, seasoning... Ready-mixed powder has been integrated into every scene of life application, not only adding different flavor for food, but also bringing a variety of happiness for us.
The intelligent ready-mix powder production factory built by FDSP adopts airtight aseptic production, and all the equipment reaches the food-grade standard, which completely improves the food quality and guards the defense line of health and safety. Whether it is milk tea, cocoa powder, cakes, bread, ice cream, seasonings and other complex products, FDSP directional production process can achieve the application of different scenarios.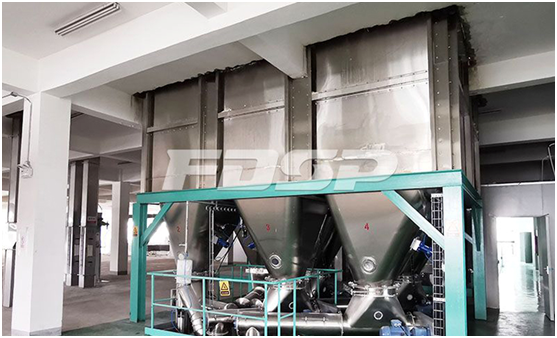 Automatic storage and delivery of raw materials
In the ready-mix powder plant site made by FDSP, you can see multiple stainless steel raw material feeding. Feeding of raw material in the enclosed purification feeding area, through external cleaning bags of raw materials, air shower, bag unloading and feeding segmentation process, to ensure that raw materials in the feeding process is clean. And then through the pneumatic conveying pipeline, the different raw materials are separately conveyed to separate mixing tanks. Pneumatic conveying process can effectively avoid material residue and cross contamination, convenient in the replacement of formula cleaning. The feeding port is equipped with an independent dust removal system for safety, health and environmental protection. This can help customers to achieve "large capacity, automation, intelligent" storage and transportation.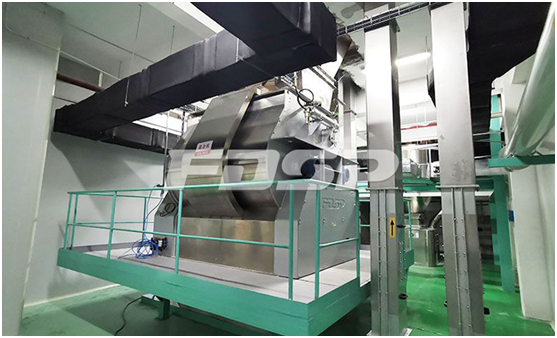 Focus on food safety and quality improvement
FDSP's batching system adopts advanced PLC control, which can make the proportion more efficient and accurate, so as to further improve the quality of ready-mixed powder products. In the most critical mixing section, the special mixer for pre-mixing powder is selected, which is made of stainless steel, and fully meets the food-grade standard. It has the advantages of uniform no residue, antibacterial and corrosion resistance, and no dead angle in cleaning. It effectively prevents material residue and cross contamination, and gives consideration to safety and quality.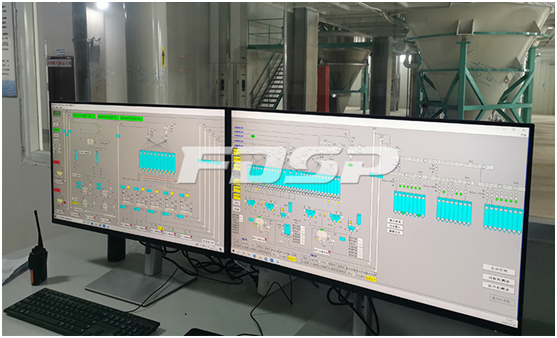 The perfect fusion of intelligence and digitization
The whole factory production will be controlled centrally by FDSP electric control system. The central control room is equipped with a computer full-screen control system, which can monitor the working state of equipment and production process in real time, record the process operation data, form production big data, so as to realize the digital and intelligent management of the production process. It is more human and efficient.
Food safety is the most important quality standard in the production of ready-mix powder. FDSP ready-mix powder whole factory process helps customers to consider the full range of production workshop purification and dust removal system both environmental protection and efficiency, to ensure a clean, tidy, pollution-free environment, and to meet the ready-mix powder production needs of safety, health, green, healthy food . Through microbial treatment process, it ensures product safety and health, and complys with national food safety standards.
FDSP, as a professional supplier of the whole solution of ready-mix powder, not only continuously provides customers more advanced machinery and equipment, but also continuously optimizes the processing technology. We are committed to creating first-class intelligent and digital whole plant project construction.
No matter from program design, process technology to project installation, automatic production, or any aspects with food mix powder processing, FDSP will be your most reliable partner!