FDSP, more than 25 years of industry experience, achieve the quality by ingenuity casting, achieve the brand by quality. As a national high-tech enterprise with great growth in the industry, we focus on the research, development, design and manufacture of granulator moulds and other high-precision accessories, it has formed an industrial pattern covering such industries as feed, animal husbandry, agriculture and animal husbandry, aquaculture, biomass, organic fertilizer and environmental protection, customize high quality ring die, roller and other spare parts for feed granulator, biomass granulator, fertilizer granulator with different material and different model.
As a professional manufacturer of granulator mould, we have a high-quality, high-precision, high-standard production workshop. The company chooses advanced processing equipment such as imported vacuum quenching furnace, four-axis gun drill, continuous quenching production furnace, with advanced production equipment, perfect production process, accurate production control, products exported to more than 30 countries and regions, widely praised.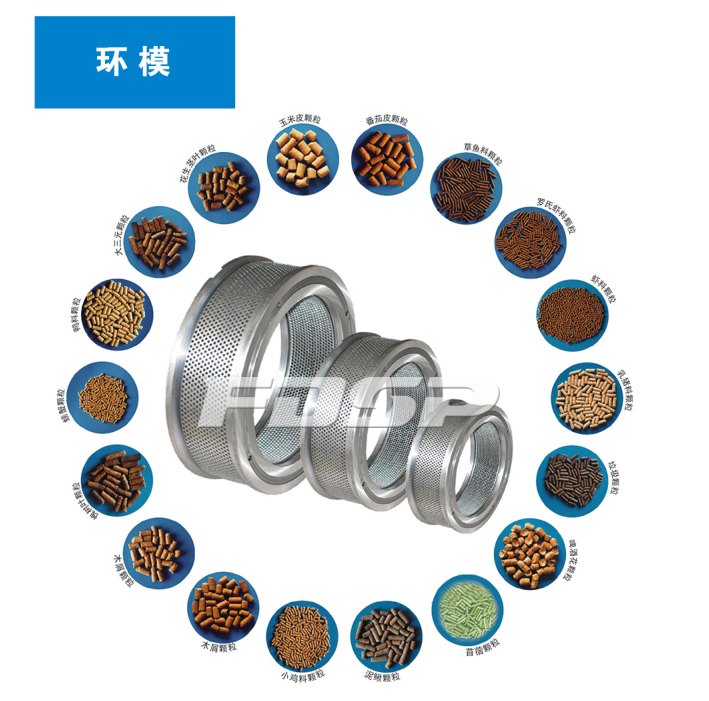 FDSP granulator mould: Focus on granulating technology research and development, for domestic and foreign customers oriented design, exclusive customization of different models, different materials and different industries of ring die, roller and other accessories.
1.ring die
We have rich experience in ring mold manufacturing, we can help customers to design compression ratio and strength base on principle and requirement, to ensure the depth of die hole and hole rate. FDSP series pellet mill rind die discharge fast, high yield, production of feed looks beautiful, good sales, the same specifications when the production efficiency is significantly higher than the level of peers. At the same time of satisfying the individual demand of the customer, we provide the ring mould of animal feed, aquatic feed, fertilizer, biomass granule and so on.
Selected Steel: Selected International Standard Steel X46CR13 stainless steel or other high-carbon and high-chromium high-quality steel as raw materials, good oxidation resistance, improve the wear resistance of the ring die, reduce the loss of production process.
Advanced Technology: we introduce European exquisite high temperature quenching technology and vacuum furnace heat treatment technology, effectively guarantee the hardness and strength of the mold, greatly extend the service life.
High-end equipment: equipped with fully automatic NC ring mold drilling machine: mold holes arranged neatly, one-time molding, high finish; equipped with precision tooling CNC machine tools: to ensure maximum measurement accuracy. To ensure that the hardness, uniformity and hole smoothness of the environmental die reach the international advanced level, greatly reduce production energy consumption, increase production.
Long Service Life: the service life of biomass particles can reach 400 hours, the service life of fertilizer particles can reach 600 hours, and the best service life of animal feed particles can reach more than 800 hours.
High-efficiency production: according to the material characteristics and the actual use of different customized process ring mold, can ensure that the granulator to play the maximum use value, thus improving the overall production efficiency.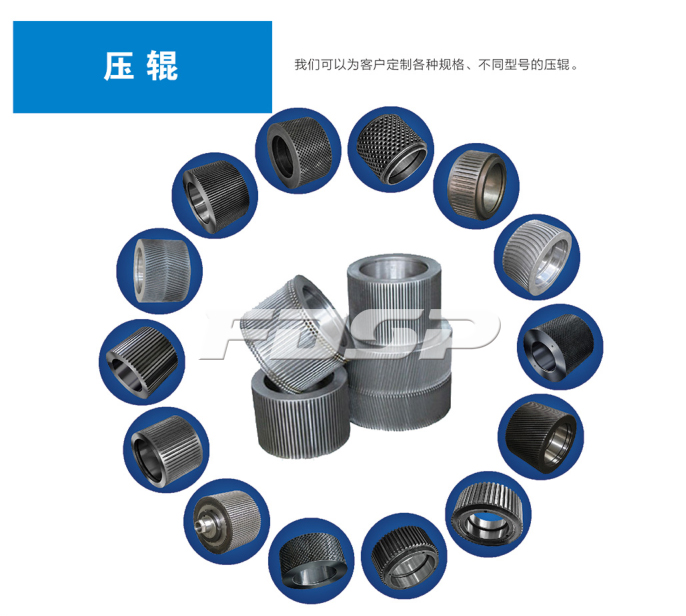 2. Roller
According to the requirements of users, drawings or samples, we can customize and processing of various specifications of the roller, and according to different occasions and scenarios, choose different slot depth and slot form.
High Strength: FDSP series roller shell adopts high wear-resistant alloy steel, carburizing heat treatment, uniform hardness, long service life.
Easy to replace: the inner eccentric axis of the press roll assembly and other components, accurate size, easy to adjust the distance between the roller and the ring die according to the user's production requirements, and easy to disassemble and replace the roller shell.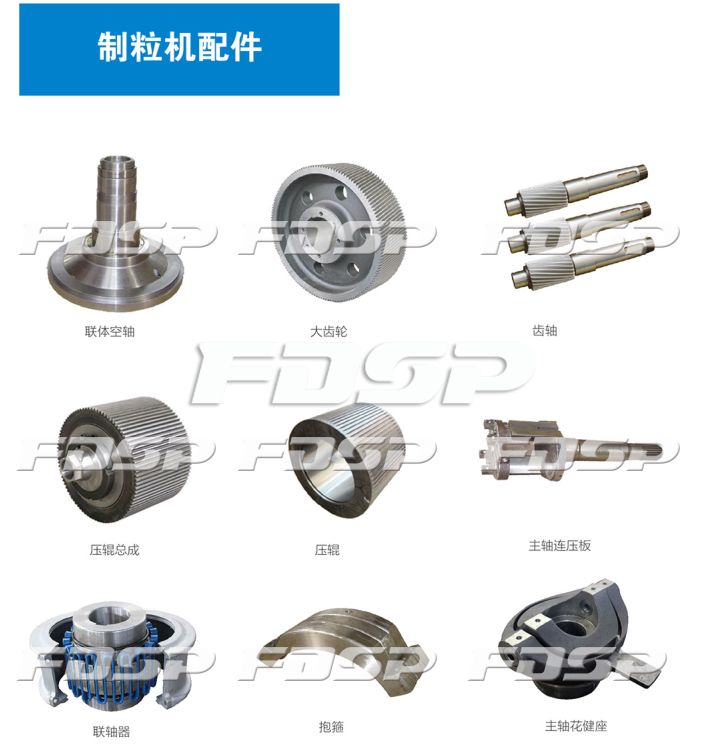 Directional design: tooth pitch and shape can be designed according to customer requirements. There are usually: head straight-toothed roller, honeycomb-shaped, gongs and drums hole-shaped roller, through straight-toothed roller, oblique-toothed roller and so on.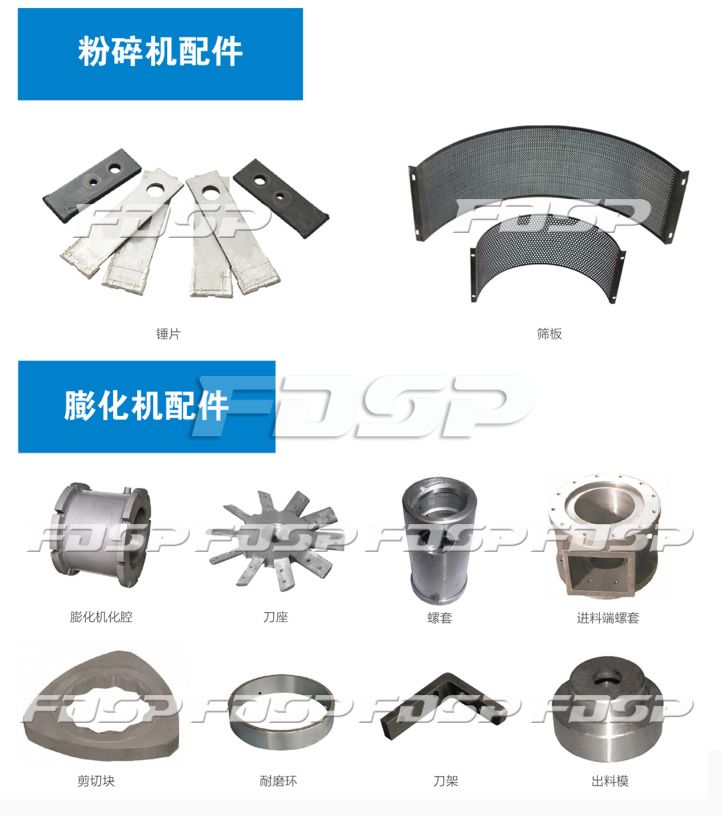 In addition, FDSP is also committed to the production and manufacture of high-quality hammer mill spare parts (rotor, hammer, screen) , mixer spare parts (propeller blade, Sprocket) , granulator spare parts (empty shaft, main shaft, big gear, gear shaft, roller shaft) , extruder spare parts (screw head, template) , bucket elevator spare parts (buckets, Belt) , chain conveyor spare parts (scraper chain) , electronic control accessories, to help customers improve all-round production energy efficiency.