The process is as follows:
Chipping process for templates
In a building templates pellet production project, specialized template crusher are used to make the flammable wood raw material like wasted templates and wasted veneer into wood chips with 20-30mm dimension and 3mm thickness then go to following process. The template crusher is with advanced structure, the chipped and crushed wood material are with high quality, large output, the advanced design for inlet size which could be used for kinds different size of wasted veneer in market, the operation could save time, save labor, save energy, safe and reliable.
crusher: LYGP1300,power 90kw,capacity 6T/h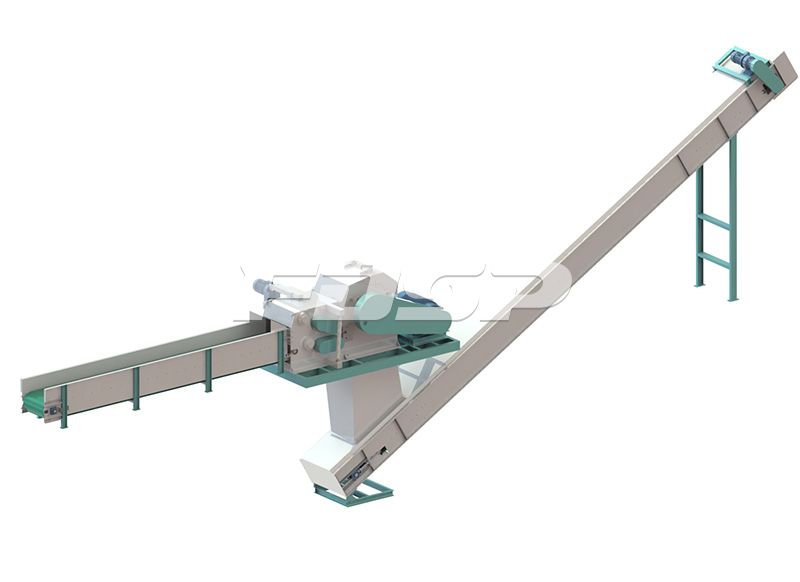 Grinding process
The grinding process of building templates pellet production project consists of more than one auxiliary equipment such as cyclone, bag filter, and the grinding work has no dust discharge. After grinding, the sawdust will be transported through pneumatic transmission by the fan suction air pressure. The output sawdust is generally about 3-4 mm. The hammer mill is a water droplet type structure with high grinding efficiency; the hammer mill rotor can be operated in forward and reverse directions to improve the service life of the hammer blade; the direct transmission mode of the motor is adopted, the transmission efficiency is high, and the maintenance is convenient.
Hammer mill: MFSP68*120,power 160kw,capacity: 5-6T/H(raw material moisture content 30%)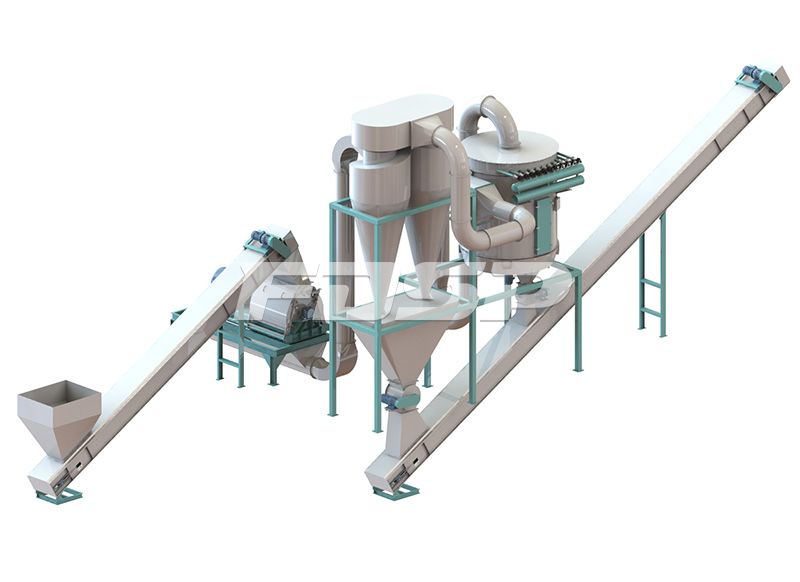 Cleaning process
The purpose of cleaning process is to remove the large impurities from raw material to prevent any breakdown or damage for mechanical equipment, transportation equipment of following process. Precleaner is with features such as high output, low energy consumption, simple structure, small occupy, easy to maintenance and installation.
Cleaner: MCY160*300, power 3kw,designed output 6T/H
Drying process
The three layer drum dryer used in drying process of building templates pellet production project is special for sawdust and with three backhaul structure, the dryer has small occupy, high efficiency, small heat loss and the heat exchange rate is over 90% inside the dryer, the heat supply comes from the automatic feeding in by pneumatic transportation which could reduce the labor cost without labor needed. The moisture content of sawdust could be 13-18% after drying.
Drying Machine: LYHG40, diameter of drum : 2.7m, length is 10.5m, power : 16kw, the designed capacity is 4t/h (moisture of raw material before drying is 30%)
Pelleting process
Four set MZLH420 biomass pellet mill were designed in the pelleting process. The diameter of biomass pellet is optional from 6-10mm, and the biomass pellets have the characteristics of high calorific value, no pollution and low ash content, which can be widely used in biomass power plants, biomass steam boilers, household fireplaces, drying furnaces and biomass gasifier. The building templates pellet production project has obvious advantages in the pelletizing process: the pellet mill is equipped with a forced feeder to force feeding into the ring molding chamber, which can make the pellet mill run smoothly, do not block the materials, and produce efficiently. Specially design of broken screw feeding, so that the poor flow raw materials smoothly feeding.
Pellet mill: MZLH420, main motor power: 90kw, power of forced feeder: 0.75kw, design with 1T/H output , quantity: 4sets
Cooling and packing process
In this cooling process of building templates pellet production project, a cooler is used to reduce pellets temperature and decrease pellets moisture, low energy consumption, easy operation, high automatic degree, through the cooler cooling, pellets temperature is not higher than ambient temperature 5 ℃, after cooling the pellets moisture around 8-10%, particle density 650-750kg/m³.
According to the customer's local sales needs, the appropriate packing scale is selected for customer to sell products more easily. There are usually two specifications: small bag and ton bag. 20-50kg/bag for small bags, 500-1000kg/bag for ton bags. The packing scale has high automation degree, high packing accuracy, and The measurement by sensor in the weighing system is with high sensitivity and strong anti-interference ability.
Cooling equipment: SKLB2.5, cooling volume : 2.5m3 design with 4t/h output.
Packing scale: SDBLY-K,bag size20-50kg/bag,packing speed: 3-5bag/min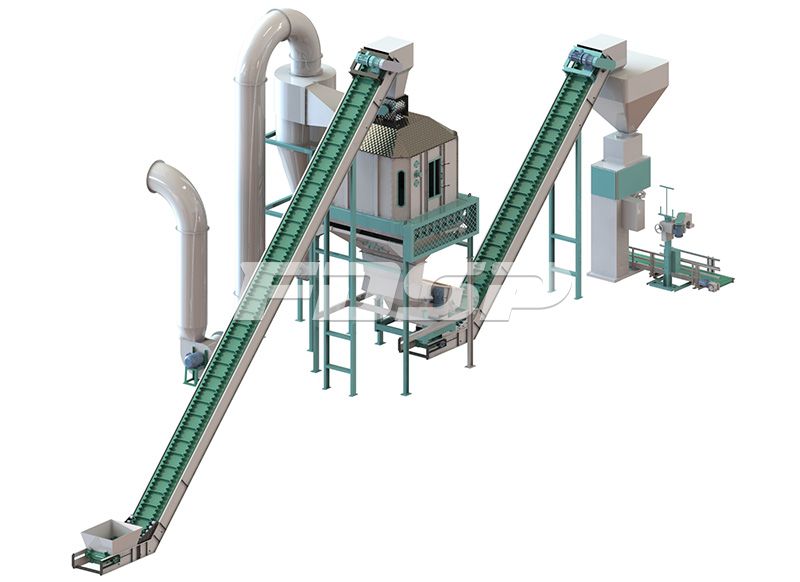 According to the needs of different customers, the scheme can be optimized:
1. If necessary, buffer bins can be added between each section to replace the storage yard. The advantage is that it can improve the automation degree of production line and reduce dust pollution in the workshop; The disadvantage is that it will increase the construction cost of the production line, and because the bulk density of materials after crushing is very light, it is easy to bridge in the bins and not drop.
2. If the moisture content of the raw material is not higher than 15%, it can be directly granulated without using the dryer; If more than 15%, but less than 20%, you can consider to use dry materials to mix with wet materials, after the water neutralization and reduction, and then granulation;
3. The packaging equipment can be adjusted according to customers' requirements for finished product packaging. It can also be stored in bulk or silos.