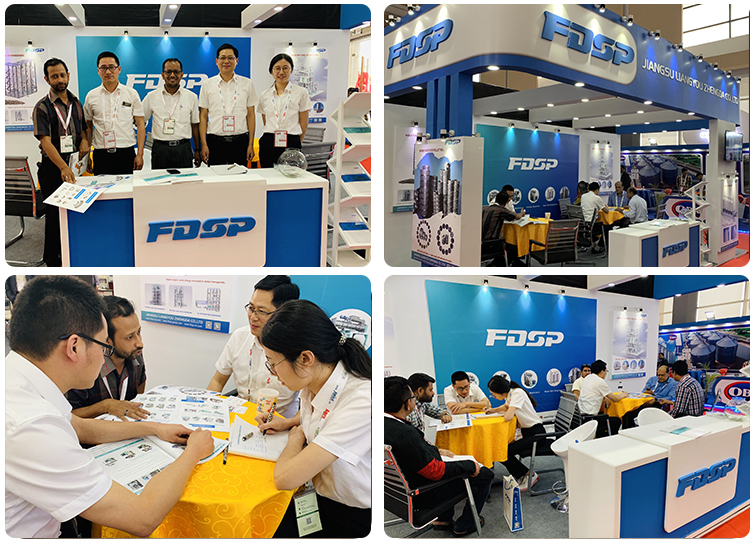 The 9th Agro Tech Bangladesh was held in Dhaka from April 4 to 6, 2019. This exhibition is a large agricultural and animal husbandry industry exhibition in Bangladesh, providing an ideal business platform for enterprises in the industry to display, exchange and cooperation. It is a good opportunity for Chinese enterprises to seize the right moment to enter the Bangladesh market.
Jiangsu Liangyou Zhengda Co., Ltd. with the theme of "focus the professional, reach the world", on behalf of a member of China's feed machinery industry to participate in the exhibition and achieved a complete success.
During the exhibition, FDSP booth attracted countless visitors to come, including feed mill users, traders and agent customers, etc. Our company's technical engineer communicated with the visitors, through the detailed explanation of equipment and engineering and on-site explanation, transmitted the design concept of FDSP product with high efficient, high quality, high yield and low consumption. Through the understanding and negotiation of potential clients, our company finally determined an import and export trading company with a history of 30 years. The two parties signed the exclusive agent agreement on the site, which will help FDSP further open the Bangladesh market and achieve win-win cooperation.
At the same time, FDSP through the new exhibition board design, picture album and case combination and other forms, comprehensively displays of FDSP four major industries - feed machinery, biomass machinery, fertilizer machinery, storage machinery and engineering, as well as ring die & roller accessories. Customers from India, Myanmar, Bangladesh and other countries consulted related projects, mainly includes over 10tph automatic livestock and poultry feed line, small feed set, poultry + floating fish pellet combined line, feed plant raw material silo and rice processing plant silo. Our company introduces the case results of FDSP technology innovation, product optimization and comprehensive problem solving in detail to customers, and its focus and professionalism have been unanimously recognized and praised by customers and insiders. In the exhibition, we have reached cooperation intention with many countries and regions, laying a foundation for further developing the market of Bangladesh and South Asia.
As a well-known enterprise focusing on the comprehensive problem solving of feed machinery and complete engineering, FDSP shares is listed in the Bangladesh international exhibition this time, which will significantly improve the brand image and industry influence of FDSP in Asia, especially in South Asia market. At the same time, through the industry customers and technical information exchanging, it is convenient to further develop overseas target market, and to bring new opportunities for FDSP development.