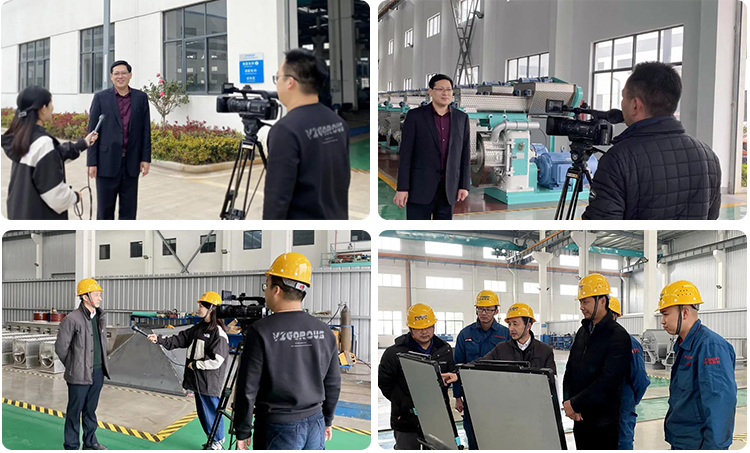 On December 15th, Mr. Chen Zhiliang, chairman of Jiangsu Liangyou Zhengda Co., Ltd. accepted an interview from Liyang Convergence Media Center as a CPPCC member. The series of reports will be carried out on multiple platforms including Liyang TV station, Liyang Convergence Media's official wechat account, Tik tok and newspapers.
During the interview, Chairman Chen Zhiliang first introduced our company's basic situation, industrial pattern and future development plan to the reporter. Later, a group of people went to our finished product exhibition workshop, and watched FDSP high-tech products. Chairman Chen further introduced our company's strategic deployment in resource integration, staffing, hardware and software facilities, team building and marketing.
Chairman Chen said, "As a national high-tech enterprise starting from feed machinery, we do not forget the original aspiration, adhere to technological innovation, process excellence and refined products. A series of breakthroughs have been made in the research and development and application of pelleting technology, which has been expanded to emerging fields such as biomass energy, bio-organic fertilizer and biological fermentation. FDSP brand value has been greatly enhanced. At present, FDSP has become the preferred integrated service provider for pelletizing users around the world."
When asked about the business situation, Chen said, "In recent years, the global economy has been hit by the COVID-19 pandemic. We closely followed the government's new policies, focusing on the corn deep processing, a new industry, in the face of adversity to achieve further development. In 2021 alone, six corn deep processing and ready-mixed powder complete production line projects in the comprehensive bonded area were implemented, doubling the annual turnover compared with the previous year.
In FDSP production workshop, the reporter also interviewed Mr. Zeng Xuefeng, deputy general manager of our company. When asked about the production situation, Zeng said, "Recently, the workshop is working overtime in the production and manufacturing, in order to fulfill the orders of many domestic and foreign projects which will be delivered at the end of the year.
Mr. Zeng introduced to reporters, "We have been practicing the production concept of 'every finished product is a handicraft', implementing dynamic quality control system, and providing 'FDSP Wisdom made' high-quality products and high-quality projects for domestic and foreign customers with international standard quality. Our products have been awarded ISO9001:2015 International Quality System certification, CE certification of European Union, GOST-R certification of Russia, AND SGS certification of China."
At the end of the interview, Chairman Chen Zhiliang concluded: "As a CPPCC member in the economic circle, I will give full play to the positive role of CPPCC members in participating in the deliberation and administration of state affairs. At the same time, down-to-earth manage my own enterprises, continue to contribute FDSP strength to the Liyang development, with action to practice the social responsibility of private entrepreneurs and CPPCC members of the glorious duty.