Technological characteristics and introductions:
RM receiving and cleaning process:
In this process, the clean system for granule receiving and cleaning is separated from powder receiving and cleaning, dust collection are individual which is with the better effects.
cleaner: granule precleaner SCY80, output 20-30t/h, powder cleaner SQLZ60×50×100, output 10-15t/h.
Grinding process:
1set of hammer mill is adopt in this process, 3 grindings bins are equipped to cross crush different raw material; The impurities could be removed from raw material by magnetic separation equipment before grinding bins to ensure the safe running of hammer mill.
Grinding equipment: hammer mill SFSP668×800, 110KW, output 10-15t/h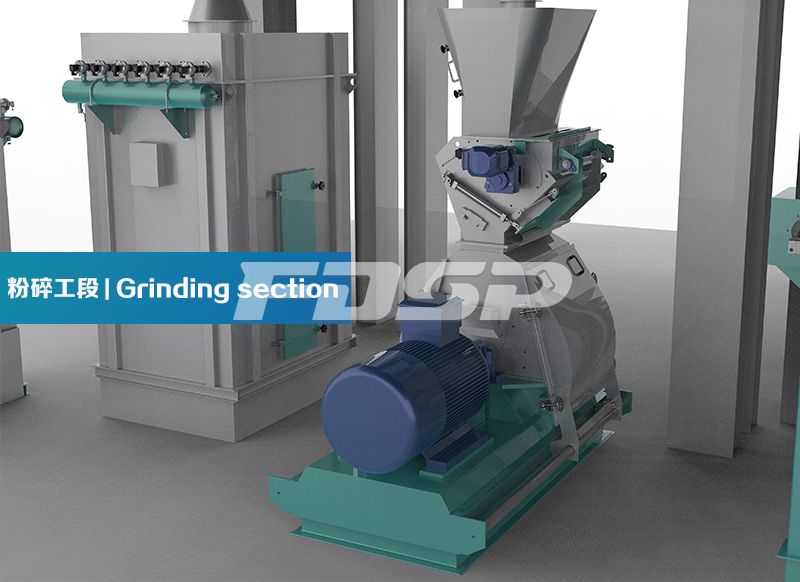 Batching and mixing process:
in this process, we use 15pcs batching bins, two batching scale work at same time which is controlled by FDSP developed independently batching program, achieve accurate quick and slow feeding, quick batching and with high accuracy.
Weighing equipment: batching scale PCS10 /PCS05, weighing accuracy: dynamic≤3‰, static≤1‰.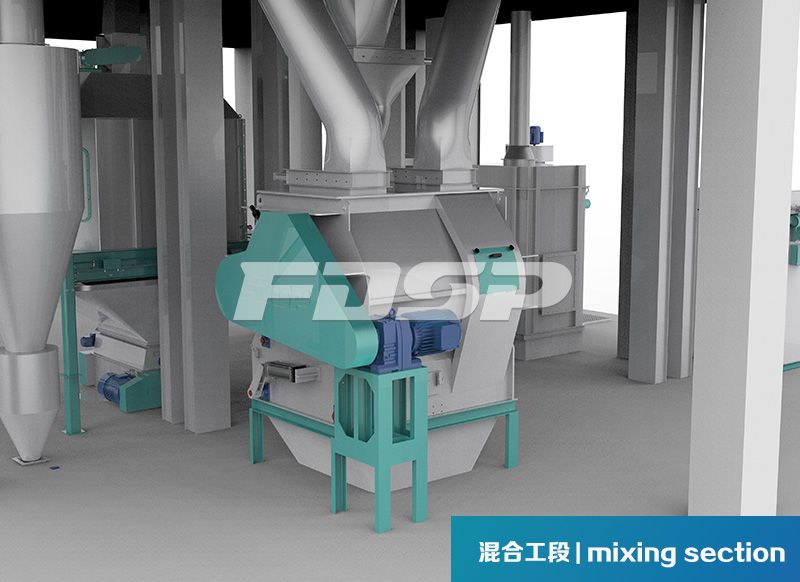 Mixing equipment: mixer SHSJ2, (18.5KW,1000kg/batch), designed output 10-15t/h/set, homogeneity CV≤5%.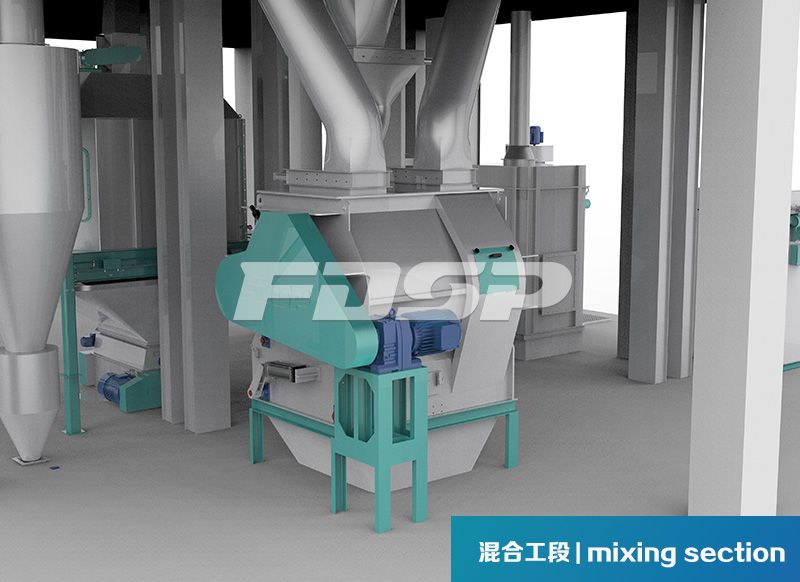 Granulation process: one set double conditioner pellet mill is used in this process. Two pellet bins are equipped for the pellet mill. After granulation, the pellets enter into the cooler, bucket elevator and then go to screening by rotary screener. The finished products go to the packing bins, others go back to the pellet mill other received by bags.
Granulation equipment: :SZLH420, 110KW,output 10-12T/H.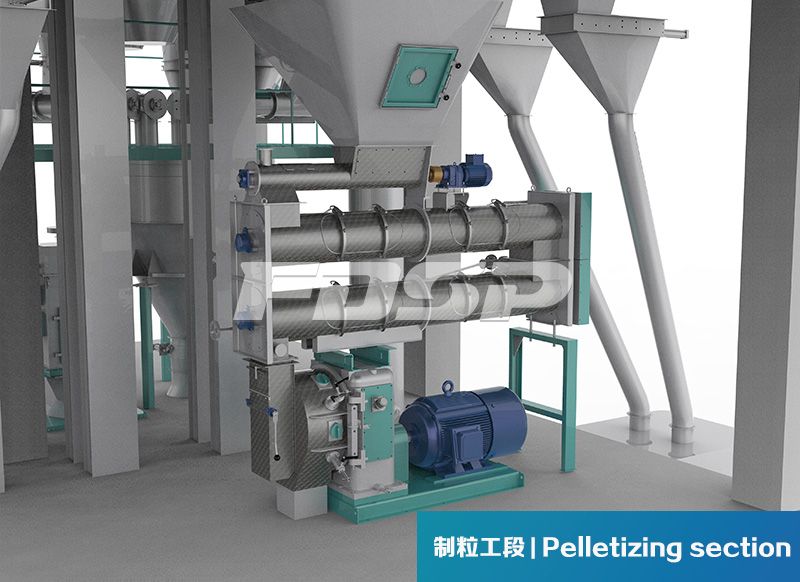 Cooling equipment:SKLN6,output 10-15T/H. Crumbler SSLG20x140(11+1.1KW), output 6-10T/H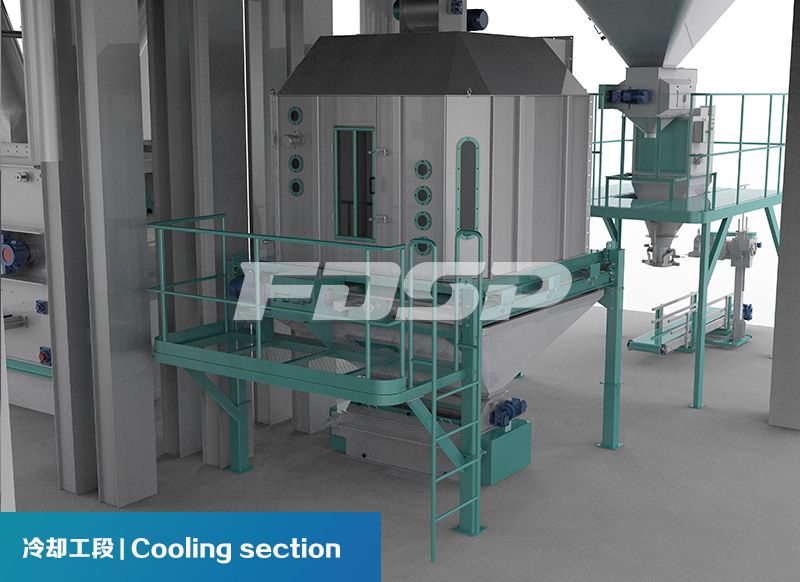 Packing process:
there are 2 FP bins in this process, 1 of them only used for pellet finished products storage, the other can store both mesh feed and pellet feed. There is special anti-grading device for mesh feed bins. The pellet feed and mesh feed will be weighed and packed finally by packing scale.
Packing equipment: belt packing scale(both for mesh feed and pellet feed), weighing rage 20-50kg/bag, 6-8bags /min.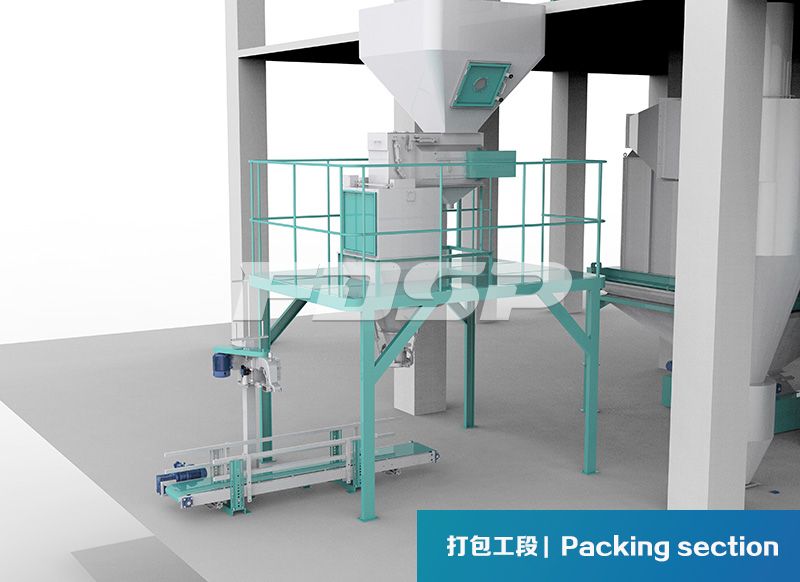 Auxiliary process:
dust collection system can improve the work condition, the oil adding system is usually seen in the mixer adding system which can improve the feed palatability.
The process can be optimized according to different customer needs:
1. Single point dust collection mode is used in the plan which means pulse filter is equipped for every rotary distributor(mesh) and granule cleaner with good effect. Single point dust collection is kind of humanized design of our company, to provide a better working environment, but the cost increases, customers can consider whether it is needed in actual situation;
2. The quantity of bins can be adjusted to achieve the beast use ratio and effectively control the production cost based on factors such as customers' formula, characteristics of raw materials.
3. oil post-coating system can be added in poultry finished feed pellets process to improve the pellet quality.