Project Description
1) As the large capacity for loading and receiving, we make two set of receiving system; the loading capacity is 200TPH for single system so total capacity is 400TPH. Unloading process is double side loading, the grizzly can carry the truck, two sided of dumping hoper is equipped with de-dusting system to improve the working condition.
2) cleaning process is equipped with double drum cleaner and tubular magnet with large capacity which is matched with receiving system, that means 200TPH for single set, total capacity is 400TPH
3)storage process: 24-3700m³maize bolt silo for storage process. As the large temperature difference between day and night at port and the long storage cycle, so there is temperature measuring and ventilation system inside the silo which could control the grain condition.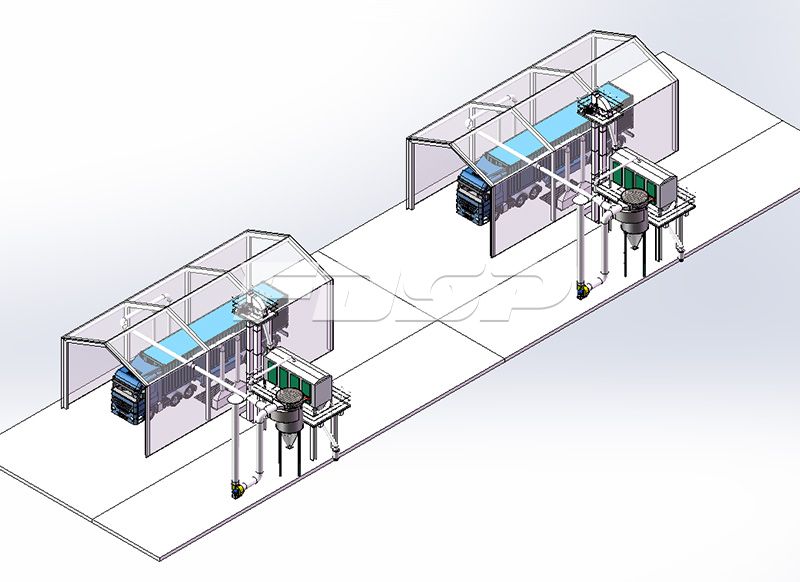 Features of the engineering process design:
1) consider the large storage capacity, we use double unloading system so as to quick unloading and to optimize on - site production management
(2) When design the silo, the ventilation screen is designed to be detachable and easy to replace, so as to keep the air duct unobstructed and the good ventilation effect, effectively control the grain situation in the silo;
3) As the location is on the port which near the sea, it has high requirement for the corrosion resistance, so the silo body adopt good quality galvanized sheet which Zn coat could reach 450g/㎡
4) the base of silo is designed to be concrete flat bottom, discharged by sweep aguer.
Other instructions:
For different projects and different customer requirements, the process will be also different, the following could be options during the process design:
(1) cleaning system (this part can be removed if the raw materials are clean);
(2) ventilation and temperature measuring system (if the raw materials are relatively dry, and the storage time in the silo is less than 7 days in winter and less than 4 days in summer, this part can be removed);
(3) the silo changing system (if the raw material is dry and storage time in the silo exceeds 60 days in winter and 30 days in summer, the silo changing system shall be considered);
(4) Customers can choose helix silo or bolt silo according to their own needs.