Craft features and sections introduction:
Fermentation and compost process:
Mix the ingredients in a pile 4 to 6 meters wide, 0.8 meters to 1.2 meters high, length not less than 3 meters. Pay attention to the appropriate fermentation process of oxygen and turns heaps.
Compost equipment: LYLP-6, power 35.5kw, output 600 m3/h.
Pre-treatment process:
The raw materials after fermentation are crushed by the special chain grinder for organic fertilizer. Then use the roller cleaner to clean the impurities in the raw materials, including large pieces of wood, stones, agglomerated materials, etc.; Then use the roller dryer to dry the raw material, drying the raw material moisture to about 20%.
Drying equipment: LYHG2.0*20, roller diameter 2m, length 20m, power 22kw. Designed output:5-7tph
Grinding process:
The materials are conveyed to the hammer mill through the conveying equipment, which is equipped with iron removing device before the hammer mill.
Grinding equipment: FFSP66*100, power 132kw, designed output 6-8tph.
Mixing process:
Through the micro-element adding hopper, the fungus seeds and raw materials can be added to the mixing machine for mixing, after evenly mixed, enters the next section.
Mixing equipment: SDHJ2, power: 22kw, design output: 2m3/batch
Pelleting process:
Fertilizer special used ring die granulator, suitable linear speed is more suitable for organic fertilizer granulator, and the adoption of high precision gear drive granulator, high transmission efficiency, ring die with quick unloading type of hoop.
Pelleting equipment: FZLH420, power: 110kw, Design output 2tph, quantity: 3 sets.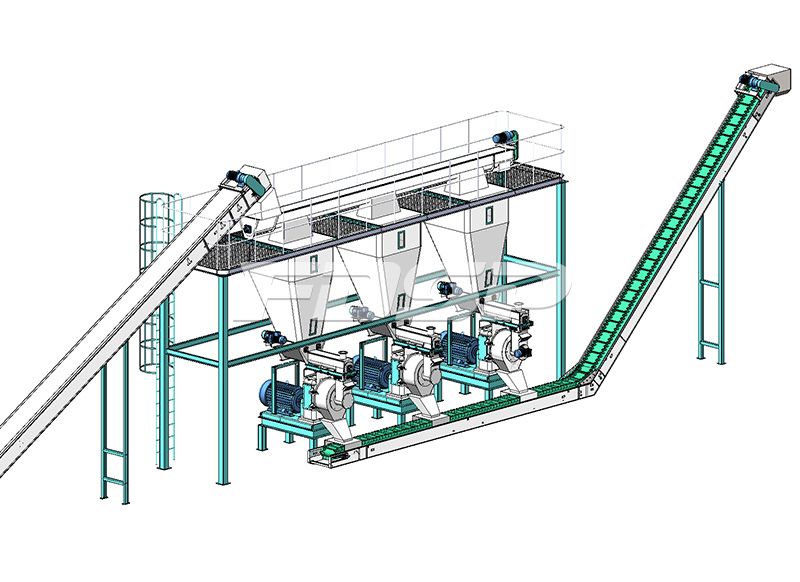 Cooling and packaging section:
the tilting type cooler is selected to effectively prevent particle breakage. The cooler is equipped with vibrating grading sieve to screen out some unformed powder. According to the local sales needs of the customer, the packaging scale can be selected to facilitate the customer to sell products. The packaging specification of the packaging scale is: 20-50kg/ package.
Cooling equipment: FKLB4, cooling chamber capacity 4m3, designed to produce 6-8tph.
Packing equipment: FDBLY-PD belt scale, packing range: 20-50kg/ bag, 6-8 bags/minute.
Pig manure contains 15% organic matter, 0.5% nitrogen, 0.5-0.6% phosphorus and 0.35-0.45% potassium. Because it contains more nitrogen, the proportion of carbon and nitrogen is relatively small, about 14:1, which is generally easy to be decomposed by microorganisms, releasing nutrients that can be absorbed and utilized by crops. Pig manure contains the highest humus, the largest amount of positive dissociation substitution, the strongest fertility, but more water content, less cellulose decomposing bacteria, mixed with a small amount of horse manure, to inoculate cellulose decomposing bacteria, can greatly increase the fertilizer effect.