Raw materials receiving and cleaning section:
In this section, pellet feeding cleaning and powder feeding cleaning are separated independently and separate dust removal. Dust removal effect is good.
Cleaning equipment:granules sifter SCY80,capacity 20-30T/H;powder sifter SQLZ60X50X100, capacity 10-15T/H.
Grinding section:
This section adopts one hammer mill, and with two pre-grinding bins.
The crushed varieties can be changed alternately. Before entering the bins, the impurities are removed by magnetic separation device to ensure the safe operation of the hammer mill.
Grinding equipment : Hammer mill SFSP668×800, 110kw, designed to produce 10-15t /h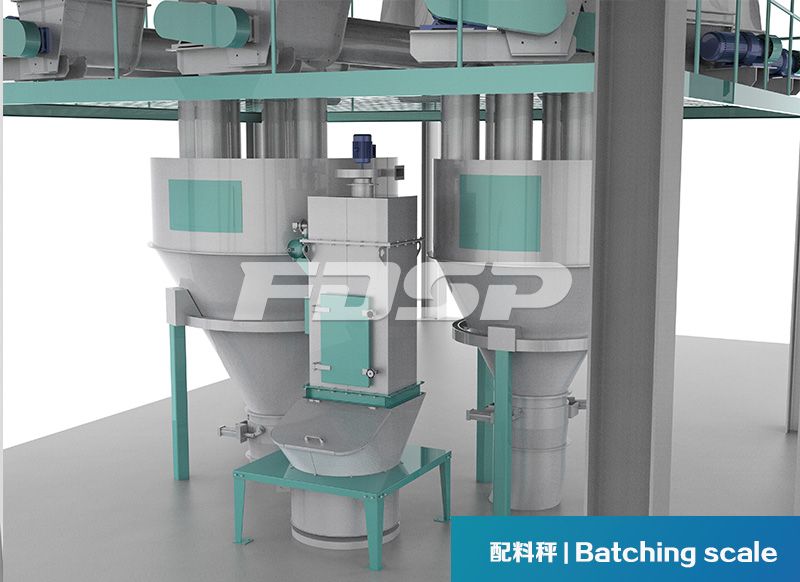 Mixing section:
This section adopts 16 batching bins, two sets of batching systems simultaneously batching. It is controlled by the batching program independently developed by our company to realize accurate fast and slow feeding, fast batching and high precision.
Weighing equipment: Dosing scale PCS10/PCS05, dosing precision: dynamic ≤3‰, static ≤1‰.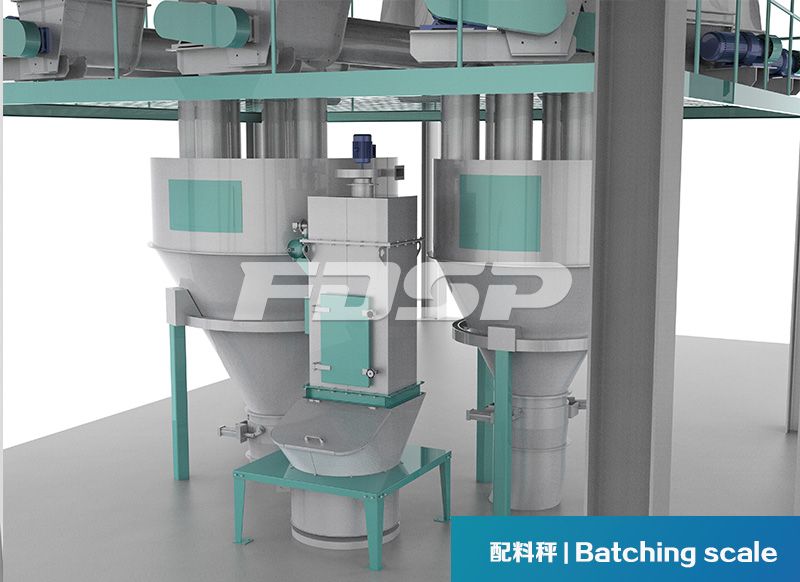 Mixing equipment: mixer SHSJ2, (18.5KW, 1000kg/ batch), designed to produce10-15t/h. Mixture uniformity CV ≤5%.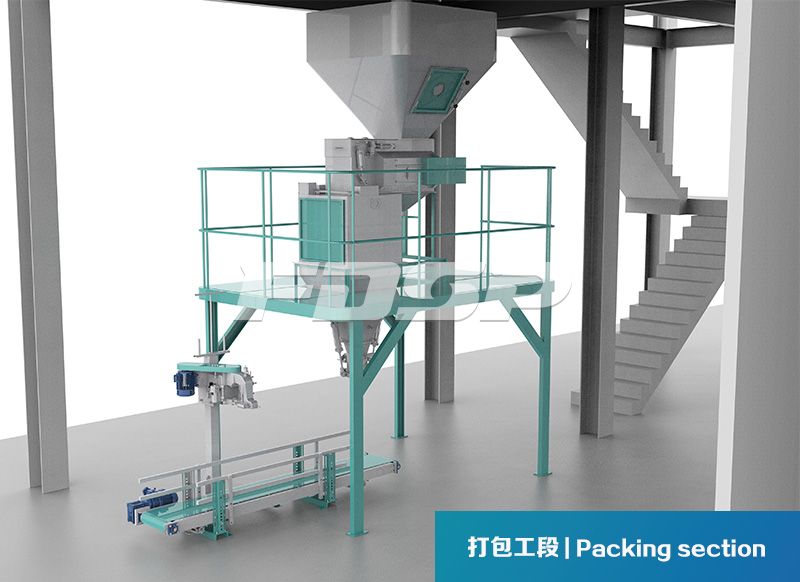 Packing section: 、
There are 2 finished product bins in this section,which are specially designed for storing powder materials. The special anti-grading device is designed in the bin to effectively prevent material grading and knot. Finally, the packaging scale will carry out automatic weighing and packing.
Packing equipment: Screw scale(Specially for powder feed), packing range: 20-50kg/ bag, 4-6 bags/minute.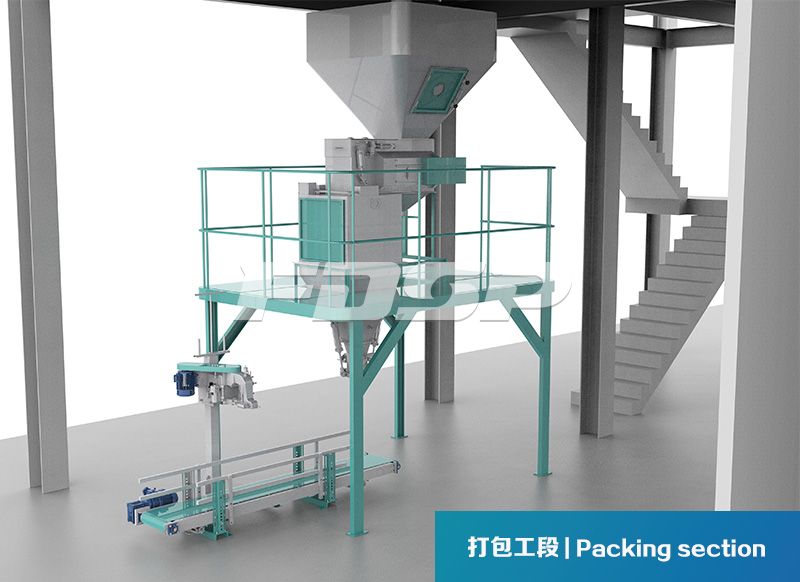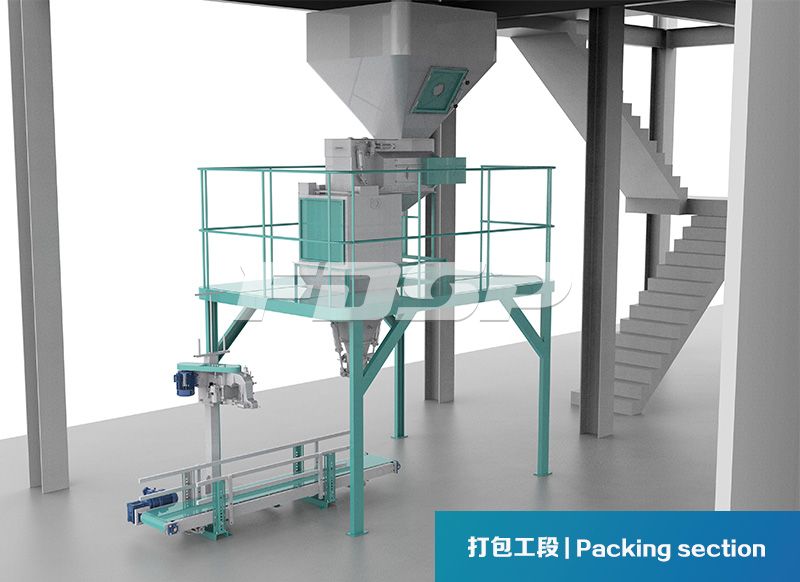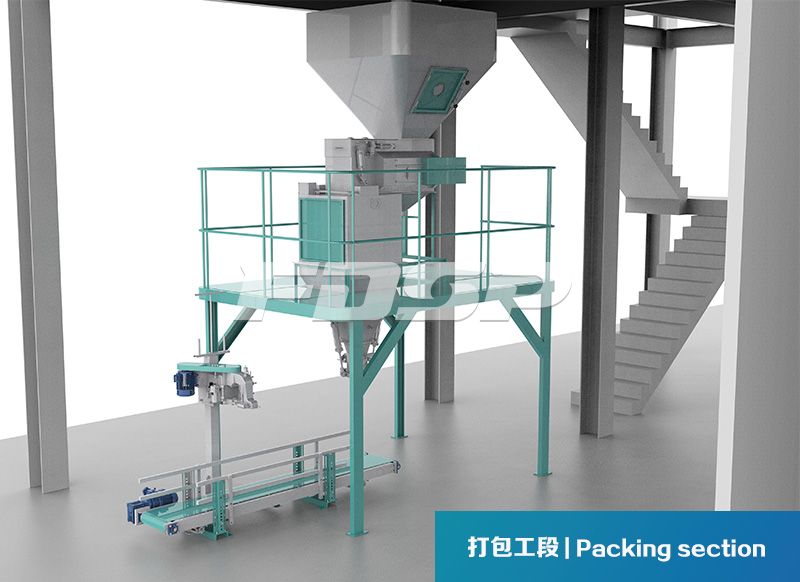 Auxiliary section:
Dust removal system to improve workers' working environment; Grease adding system, common mixer place added to improve feed palatability.
According to the needs of different customers, the scheme can be optimized:
1. The scheme adopts the single-point dust removal mode, that is, each rotary distributor (powder material) and pellet cleaner is equipped with a pulse dust filter, which has a good dust removal effect. Single point of dust removal is our company's humanized design, which can provide a better working environment, but the cost increases. Customers can consider whether to use this configuration according to the actual needs;
2. The quantity of bins can also be adjusted according to the formula of customers, the characteristics of raw materials and other factors, so as to achieve the highest utilization rate and effectively control the production cost;
3. Assembly or welding can also be adopted for the installation of the bin. The assembly bin has a high cost, quick and convenient on-site installation, and the welding silo has a low cost. On-site welding by workers is with high labor intensity and long time. Users can make reasonable choices according to their own needs;