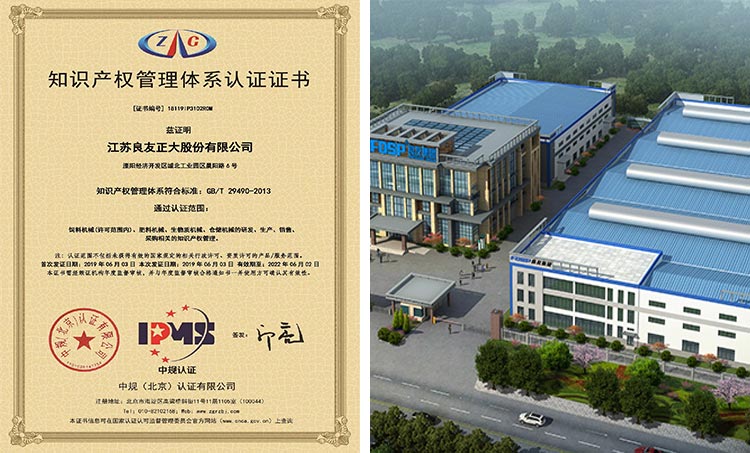 Innovation drives development and intellectual property rights are escorted. On June 3, 2019, FDSP passed the "Intellectual Property Management System Certification" issued by China Standard (Beijing) Certification Co., Ltd. Certificate No.: 18119IP3102ROM, the scope of certification: intellectual property management related to research and development, production, sales and procurement of feed machinery, fertilizer machinery, biomass machinery and storage machinery.
The intellectual property management system certification is the current high-level intellectual property management system qualification certification in China, and it is also the honor of enterprises with high gold content. The adoption of the intellectual property management system certification is a high recognition of FDSP's research and development strength, independent innovation capability and technical management system. This marks that FDSP has entered the domestic leading level in the creation, application, management and protection of intellectual property. Through the certification of intellectual property management system, it can effectively prevent and control intellectual property risks, help to enhance the intellectual property awareness of employees, mobilize the enthusiasm of invention and creation, and promote the company to develop and produce new products and technologies with high added value and independent intellectual property rights. To enhance the value of intangible assets of enterprises, and at the same time, it has positively promoted the core competitiveness, comprehensive strength and market possession of FDSP.
As a national high-tech enterprise integrating R&D, production and sales, small and medium-sized science and technology enterprises in Jiangsu Province, and private technology enterprises in Jiangsu Province, FDSP has always implemented the intellectual property management norms as an important work content. The company has been in business since 2018. The official launch of the IPR compliance work in the month, through the active cooperation of all departments of the company and the full preparation in the early stage, not only continued to improve the research and development, production, sales, procurement, etc. of the feed machinery, fertilizer machinery, biomass machinery, storage machinery, etc. In terms of intellectual property management norms and workflow construction, a programmatic, institutionalized, standardized and systematic intellectual property management system has also been established and operated.
In the future, FDSP will take this opportunity to continue the foundation of pragmatic intellectual property management, continuously improve the level of independent research and development, promote the intellectual property of scientific research results, further enhance the intellectual property management level of our company, and realize the scientific management and strategic application of intellectual property rights. In addition, it effectively stimulates the company's innovation vitality and enhances the company's market competitiveness.
Strength builds the brand and innovation leads the future. The company has been committed to providing customers with safe, stable, high-quality and efficient feed machinery, biomass machinery, fertilizer machinery, storage machinery and complete sets of projects, FDSP shares look forward to working with you.