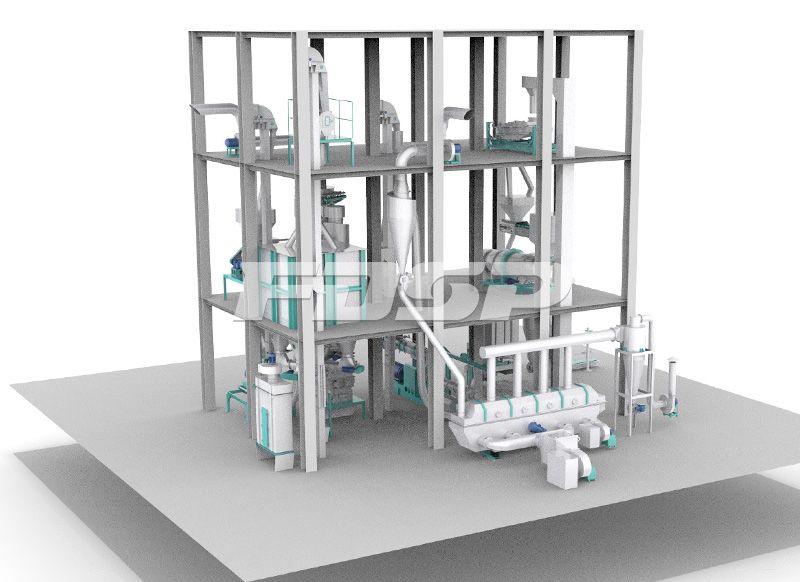 Technological characteristics and introductions:
As the high oil and fat content for pet food raw material, the regular grinding before batching process will make it difficult for hammer mill to grinding single material with high fat, so usually we adopt batching before grinding process.
During processing, the Z-type elevator is specially designed in order to keep the pellets not to be out of shaped and not crumbled. Compared with normal bucket elevator, this Z-type elevator can mostly avoid pellet being crumbled and can effectively avoid the pollution caused by bottom residual.
RM Receiving & Pre-cleaning System:
In this process, a feeder nose is set with separate and effective dedusting equipment.
Pre-cleaning equipment: Pellet cleaning sieve SCY63 with a designed capacity of 10-20T/H.
First batching System: As this is an abroad project with only 2-3 solid raw materials, the production line is only equipped with 4 batching bins and 1 batching scale. The process is controlled by the batching program independently developed by our company to realize accurate fast and slow feeding, fast batching and high precision.
Weighing equipment: Dosing scale PCS-025 with dosing precision: dynamic ≤3‰, static ≤1‰.
First Premixing and Grinding System: This process adopts double shaft high efficient mixer to premix the raw materials to increase the evenness of materials before grinding.
Premixing Equipment: Double shaft high efficient mixer SHSJ0.5, (5.5KW, 250KG/LOT) with designed capacity 1-2T/H. Mixing evenness CV≤5%.
Fine grinding system: As the extruder requires high for the fitness of raw materials (normally above 40 meshes), this process adopts a fine grinding machine and adopts the pneumatic type discharging. It is also equipped with cyclone, pulse filter, and the grinding fineness can be adjusted.
Fine grinding equipment: Hammer Mill SFSP668*600, 75KW, designed capacity 1-2T/H.
Second mixing system: This process adopts a bin for mixing and calculates by lot which reduces the investment for a second batching system. This process is equipped with a double shaft high efficient mixer and a micro element adding port.
Mixing Equipment: Double Shaft High Efficient Mixer SHSJ0.5, 5.5KW, 250kg/lot, designed capacity 1-2T/H, mixing evenness CV≤5%.
Extruding system: This section adopts a single screw extruder, equipped with a pre-extruding round bin above the extruder and equipped with a disk-type feeder to prevent material from arch and discharge smoothly.
Extruding Equipment: Single Screw Extruder SPHS100,55+1.5+2.2+3KW(with single-layer conditioner), designed capacity 0.6-1T/H (mould hole diameter 4.0mm).
Drying Equipment: TGZZ6*75, 1.5+7.5*2KW, designed capacity: 0.8-1.2T/H.
Coating and packing system: Oil post coating is a way to add the lost or spoilt components during processing in a specific way into pet feed to prevent these components from being lost or spoilt. This method also solves the problem that the pellet cannot reach the oil adding amount in the previous processing. The coated pet feed not only has a nice look but also with good palatability and good nutrition. For the temperature is high the moment when the pellets discharged from the extruder, they need to be cooled before being packed in bags or in bulk. Therefore, they will finally be cooled and screened through a swing cooling sieve.
Coating Equipment: Drum Coater SYPG1000, 1.5KW, designed capacity: 4-6T/H.
Cooling Equipment: Swing cooling sieve SBSZ120,055+0.2*2KW,1.5m³ volume, designed capacity 1-2T/H. (extruding feed has small density, large volume)
Packing Equipment: Rapid single-bucket granule scale for extruding material, packing range: 20-50kg/bag, 4-6 bags/minute.
Auxiliary System: The dust removal system: it is used in the bagging system which can improve the working environment for workers; Oil adding system and Water adding system: it can improve the feed palatability.
According to the needs of different customers, the scheme can be optimized:
1. This plan adopts batching before grinding process; raw material bins also can be batching which simplify the process, save the cost. the quantity of bins and buffer hopper and be adjusted based on customer's needs, for example: set two intake buffer hopper could reduce the waiting time when batching and improve the efficiency.
2. Fine grinding flow can be substituted with more efficient and higher fitness pulverizing equipment according to customers' raw materials but the cost will be increased.
3. The configuration of the extruder is a single conditioner + a dual-axis difference speed conditioner. The single conditioner is to add more meat paste and fat, but if customer do not have high requirement for fat content, they can remove the single conditioner to reduce cost
4. The finished product packaging equipment can be customized according to the customer's packaging specifications and requirements. Generally, the finished product packaging of pet feed can be divided into small packaging and large packaging which will use different packing equipment